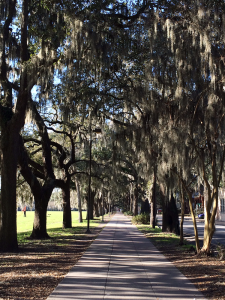 Savannah, Georgia is called the "Hostess City of the South" for its hospitality, and that hospitality is one of the first things you will notice about this lovely city perched on Georgia's Atlantic coast. Drawling Southern voices welcome you, and provide your first clue that Savannah is a place where the pace of life slows down, living is easy, and a tall glass of sweet iced tea is always the drink of choice.
The city's beauty, bedecked as it is by the ubiquitous Spanish moss, and arranged in a series of  lovely park-like squares, is probably the next thing you notice. Drive into the heart of the city, with its abundance of live oak trees and lush blooms, and you will begin to catch glimpses of the busy Savannah River, and the gorgeous, sprawling historic homes.
Savannah has a humid, subtropical climate so, if you choose to visit in the summer, dress lightly, drink plenty of water, and take breaks on some of the breezy restaurant patios for a glass of that famous sweet southern iced tea in a glass packed full of ice; that's the way they drink it in the South!
Read the rest of this article on Luxe Beat Magazine HERE.
Pin It