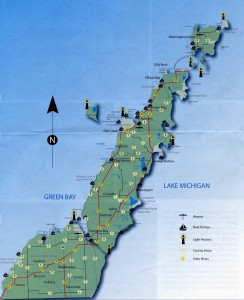 Last summer, we planned a trip to Door County, Wisconsin thinking it would be the perfect summer getaway.
Lounging on the many beaches in the warm sun and swimming in the beautiful, clear water of Lake Michigan was a high priority, but unseasonably cold weather rolled in and we spent the week in jeans and jackets.
This, however, did not keep us from enjoying beautiful and charming Door County with its little villages, gorgeous water views, fabulous local cherries in everything from pie to pancakes, and many, many servings of fried cheese curds.
However, we are giving Door County another chance this summer to provide us with the warm summer experience we were seeking.
In July, we head back to our favorite place to stay, The Little Sister Resort, with big plans to enjoy everything the area has to offer. Last year, we didn't make many plans for outdoor activities but this year will be different as we have big plans with both Gravity Trails and Door County Kayak Tours.
I am a huge fan of kayaking although Tom could not be less of a fan, and I plan to introduce this sport to our grandson, daughter, and son-in-law on this trip. It's truly a great way to really experience the water and it's easy enough for all ages. Door County Kayak Tours has several different kayaking tours, including one that explores caves and one that kayaks in the wetlands but we plan to experience the Bluff Kayak Tour.
This is one of the most picturesque and enjoyable tours offered and we will see plenty of Door county scenery while the rest of my family learns to love kayaking as I do. These kayaking tours are on stable, sit-on-top kayaks which are safe and easy to paddle. The guides will take photos of you so you don't even have to balance your camera!
Because I know they will grow to love this fun and easy sport, we are also going kayaking with Gravity Trails, which offers not only kayaking but several other activities as well. We are very excited about the Clear Bottom Shipwreck and Wildlife Tour, which sounds amazing because the kayaks have clear bottoms which will allow us to see the area shipwrecks and fish.
The tour begins in North Bay, a sheltered and safe bay which is scattered with shipwrecks, many still visible in the clear, shallow water. I think our nine-year old grandson in particular will love this experience!
Kayaking is only of the activities Gravity Trails offers; they also have paddle board rental, zip lining, and Gem Mining. Just purchase pails of soil filled with gems, then sift through them in the mining flume to find some treasures to keep. I imagine we may have to purchase several pails of soil for our grandson! Gravity Trails is also located in the Egg Harbor Fun Park where they have Go-Karts, Batting Cages, Mini-Golf, Water Wars, Bounce Castles, Arcades, snacks, and plenty more. We may never get our grandson to leave!
Our outdoor activities are going to make this trip to Door County the best ever. We are hoping for warm weather on this trip, but if another cold front moves in, it won't deter us at all. We can always wear jackets while experiencing one of our very favorite places!
Pin It