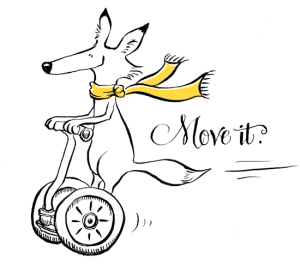 Hosted Activity
I was a little concerned about Tom. Even though I had already been on a Segway before and knew it didn't require a huge amount of balance, this was a person who managed to capsize his kayak in approximately 12 inches of water.
But he was very excited about trying out a Segway for the first time on our Segway Nation tour in Portland, Oregon.
Portland was actually the perfect place to try a Segway for the first time – relatively flat, very bike-friendly so they are used to transportation options other than cars, and with a laid back vibe that is very conducive to tourists trying something unusual.
We checked into the tiny office where our friendly guide gave us simple directions, helped us fasten on our helmets, and then us both an introductory tour on the Segways. My reservations disappeared as Tom took to it instantly, grinning with delight as he zoomed up and down the sidewalk.
Our Segway tour was a great introduction to Portland as this was our very first visit. We tooled all over the city with our knowledgeable guide sharing information and kindly offering to take photos of us everywhere. Portland is situated at the confluence of the Willamette and Columbia Rivers so it's easy to get water photos!
We hopped off the Segways a couple of times for photo opps in between touring.
We spent about two hours on the Downtown Historic Segway Tour, which we really recommend as it was so much fun and a great way to see the city.
Downtown Historic Segway Tour – $69.00
Duration: 2 hours Start Time: 9 AM, 2 PM and 6:30 PM   
Cruise through downtown Portland with Segway Nation's popular Downtown Historic Segway Tour. This tour is our most popular tour and explores downtown Portland's scenic waterfront, many well-known landmarks, and several historic sites. The Downtown Historic Segway tour is offered 3 times daily and books up quickly so call now to reserve
Highlights: Approx 2 hours
• Segway Tour of scenic downtown Portland
• Glide past the scenic Willamette River
• See Portland's China Town
• Steel Bridge
• Portland's Marina
• Pioneer Courthouse Square
• The famous Pearl District
• Union Station and many other great historic sites
One of the best tips our Portland savvy tour guide gave us was to try the doughnuts at Blue Star Doughnuts, a local doughnut shop that makes them fresh and offers an unusual array of toppings. We thanked him then and really thanked him mentally the next day when we had one of their maple bacon doughnuts.
I really heaved a sigh of relief to find that Tom loved taking a tour on a Segway just as much as I did because now we can tool around on Segways whenever we travel! If you haven't tried it, be sure to start because then you will know why all those people on those Segway tours are grinning – it's a blast!
Full disclosure: Our tour was provided by National Tours, but as always, we will share our honest opinions about any travel experiences we have.
Pin It