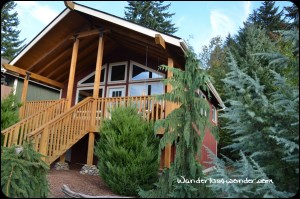 Whenever anyone describes a location as very nice but "not really luxurious," I immediately lose interest. I like things to be luxurious. In fact, I love luxurious things. Bring on the luxury!
This is absolutely not a problem with the completely fabulous Carson Ridge Luxury Cabins in the beautiful, wild Columbia River Gorge National Scenic Area in Washington State, as they have all the luxury you could possibly want. And then some.
You might think the words luxury and cabin do not go together, but at this location they do. Believe me, they absolutely do.
When we planned a trip to the Oregon and Washington area, my husband and I  decided to include the Columbia River Gorge National Scenic Area, after reading that it was truly an amazing and scenic place. Since my husband is a serious fan of cabins tucked away in the woods but I am a fan of luxury, when we happened upon the web site for Carson Ridge Luxury Cabins, we were hooked. We immediately arranged a stay in their perfectly exquisite Mt. Adams cabin, one of three new cabins the owners designed and built from the ground up after they purchased the property.
Read the rest of this article on Luxe Beat Magazine HERE.
Pin It