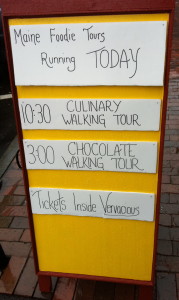 Portland, Maine was definitely not putting her best foot forward when we visited on a gray, rainy day in the fall. Our hopes for a lovely culinary walking tour were dashed by the icy, driving rain but being the penultimate foodies that we are, we persevered. We were in town for the day on a cruise and, with visions of whoopie pies and artisanal cheeses dancing in our heads, we put on our coats, pulled up our hoods and prepared to brave the elements.
We made our way through town to Commercial Street and the Old Port Wine and Cigar Shop, where we were to meet our tour group for one of the charming tours provided by Maine Foodie Tours. They offer several different foodie tours but we chose to participate in the Culinary Walking Tour because we thought it would offer a great introduction to this foodie city. The walking tour winds through the streets of Old Port and allow you to sample a variety of delectable, Maine-inspired foods and get a behind-the-scenes at those artists who create these culinary delights.
Read the rest of this article on Epicurean Traveler HERE.
To find the best deals on hotels, check out Yonderbound HERE.
Pin It