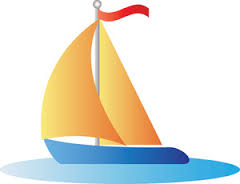 Since Newport, Rhode Island is an island (news to us until we actually visited), one of the best ways to see the place is from the water. A cruise tour with Classic Cruises of Newport was the way we accomplished this and it was one of the highlights of our visit.
We did spend a little time wandering around the dock area trying to find the right place to board the Rum Runner II so allow some time before your cruise as there are several docks and it's a bit of a challenge finding the right one.
Classic Cruises offers a variety of tours throughout the summer on both sailing and power boats including sunset harbor cruises and a number of cruise tours which offer amazing views of Newport Harbor and Narragansett Bay.
We decided on a high-speed yacht tour on the classic speedboat Rum Runner II where we would "evoke the intrigue and luxury of her smuggling days along the waterfront" – sounds perfect! It was a gorgeous, sunny summer afternoon when we finally located the right dock and clambered aboard the comfortable speedboat.
The boat was built in 1929 during the height of Prohibition when smuggling illegal liquor into harbors was a great, if risky way to make money. Built for two New Jersey mobsters to evade the Coast Guard speedily, she has settled into the life of a quiet tour boat in Newport and we were thrilled to be enjoying the sights from her deck. We eased away from the dock and were immediately impressed with the gorgeous boats which filled the harbor.
One of the best things about our tour was our lovely tour guide, a young woman who had been raised in Newport and shared all the fascinating history of the area.
It didn't take long to realize that this was a great way to see the famous Newport mansions. This was our first introduction as we had not toured them yet and we were pretty impressed. Hard to imagine a lifestyle that includes these behemoth houses!
Most of the mansions have been preserved and are open for tours but a few have gone through renovations and been repurposed, like this one transformed into condos.
We headed out of the tranquil harbor into Narragansett Bay past more scenic sights.
On the other side of the bay, we cruised by Fort Adams State Park.
Then it was time to head back. We relaxed and enjoyed our speedy trip across the harbor and back to the dock where we disembarked to enjoy the Newport mansions from the land side. We wondered how many of the other tourists had experienced the water view of the mansions and felt pretty damn smug that we had.
Full disclosure: Our tour was provided by Classic Cruises but as always, we will share our honest opinions about any travel experiences we have
Pin It