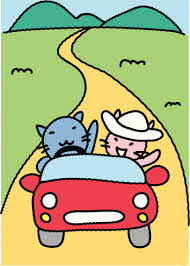 I relaxed back in the comfy seat of our RAV4, stretching out my legs, and just enjoying the leg room and comfort after hours on the plane flying from Kentucky to Oregon.
Toyota had done an extremely excellent job of turning us into rabid fans simply by inviting us to a Toyota event last year and kindly loaning us a Venza to drive for our tour of the California coast.
We were amazed at everything we had not previously known about Toyota, so much so that we came home and immediately bought a Toyota. Now, that is good marketing.
We love our FJ Cruiser in every way – Tom is especially fond of it (understatement of the year right there) but we really appreciated it when we headed for the deep snow of Michigan last winter.
We are not used to a lot of snow in Kentucky so Michigan was quite an experience for us and our trusty FJ Cruiser plowed through anything Michigan offered.
So, when we knew we were going to spend a week driving around Oregon, we decided to give another Toyota model a try. One of my girlfriends had been driving a darling little black Rav4 for years and I always loved it so we asked to use a Rav4 for the week.
And Toyota said why sure. We will have that Rav4 waiting for you at the airport. No problem. How nice is that?
And so they did.
We disembarked the plane with a sigh of relief, hopped on the bus as instructed, and ended up at parking location. And there she was. Our lovely ride for the week.
Although technically a sport utility vehicle, the Rav4 is truly like a luxury vehicle in appearance and comfort. Because we were going to be on the road for a week, traversing the state of Oregon from the coast, to the mountains, to the city, this vehicle was much more practical for us than a compact car. Even though it is considered a compact SUV, we found there was plenty of room for us and all our luggage. The Rav4 is one of the top selling SUVs and, once we drove it for a week, we could see why.
It's extremely comfortable with lots of room for everything we crammed in there, we loved the built-in GPS, and we thought it handled great.
After piling into our sweet ride and cramming in our luggage ( we would be in Oregon all told for two weeks after a week long river cruise was added to our driving trip), we headed to the coast. The Oregon coast was a surprise in every way in its astonishing beauty and our Rav4 zipped us around everywhere we needed to go.
From the coast, we headed to the mountains where we stayed in a cabin and toured the beautiful Columbia River Gorge, then took a side trip to see Mt. St. Helens.
After nearly a week enjoying our new vehicle, were sad to give it up but found we could walk everywhere we needed to be from our hotel in Portland.
So, very reluctantly, we dropped it off at the airport where we had picked it up.
Our cab ride to the hotel was not nearly as satisfying as our week in the Rav4 had been. We missed our comfy, sweet little SUV.
We will be needing a new SUV not too far in the future.
Don't be surprised if you see an article here about our new Rav4 sometime soon.
Hmmm…now what color do I want…
Full disclosure: Our Rav4 was provided by Toyota but as always, we will share our honest opinions about any travel experiences we have.
Pin It