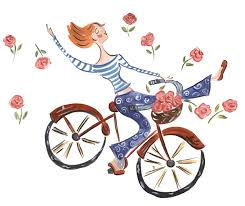 I absolutely loathe spinning class. I really, really wanted to like it. Because how difficult could it be to ride a stationary bike in place?
 You know what? It is extremely difficult. For one thing, the bike seats are incredibly, indescribably, immeasurably hard. So hard that no matter what you do, no matter how thick a bike seat cover you buy, no matter how many times you stand up on the pedals to relieve your aching butt, you are still in pain.
I couldn't understand why this was not more fun. It's bike riding, right? Well, it's just not exactly like regular bike riding. It's a lot less fun.
 So when the lovely and generous folks at the Sandestin Golf and Beach Resort in Miramar Beach in Florida offered me and my sister-in-law bikes to ride during our girlfriends getaway last year, I hesitated. Wasn't this going to be spinning class all over again? Painful and no fun. Turns out this was the furthest thing from the truth.
Read the rest of this article on Travelhoppers HERE.
Pin It