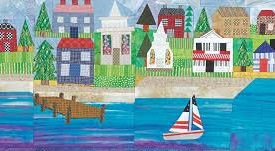 Door County is often referred to as the Cape Cod of the Midwest and, now that I have seen it in both winter and summer and have actually visited New England, I am here to tell you that this appellation is quite correct.
This is a lovely, lovely place.
Our daughter and grandson are big fans of the beach as am I and we decided to head North this summer instead of our usual Southern destinations along the coast. Although the last time Tom and I saw the beaches of Door County they were covered in snow, I had high  hopes that this would be a great beach destination in the summer.
As indeed it was.
When Tom and I were last at Whitefish Dunes State Park, we were on snowshoes and deep, heavy, pristine snow blanketed the shoreline.
We found the swimming area sign sticking out of the snow pretty darn amusing.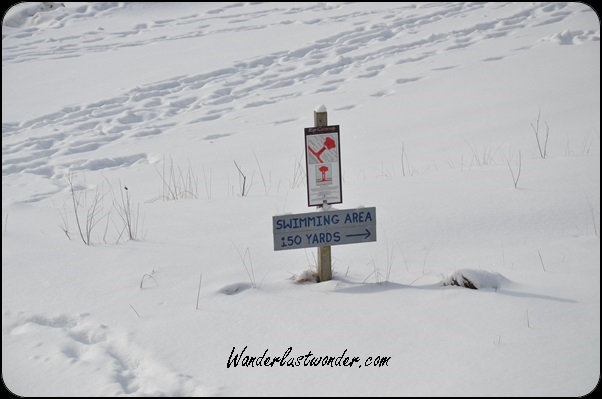 Summer provided quite a different picture of the area! Although it was a somewhat cool and foggy day, we still enjoyed our stroll on the beach.
 We made the most of it and some of us even managed to play in the sand for a while.
It was nice to head back to our warm and cozy cottage at the Little Sister Resort, where we had a wonderful stay at this great, family friendly resort right on Little Sister Bay.
We enjoyed every single thing about our stay including the fact that we had our first taste of Fried Cheese Curds at Fred and Fuzzy's and the proceeded to spend the rest of the trip ordering them at just about every meal.
Not only did we have a lovely stay there, we also got to experience the fabulous Landmark Resort in charming Egg Harbor. When we began planning our trip, we noticed that the weather did not look particularly friendly for a beach trip.
In fact, it was going to be downright cold.
For a little boy who was looking forward to lots of swimming and playing on the area beaches, this was not a good prognosis. So I spent a little time looking for places with an indoor pool where he could swim and enjoy himself. The folks at the gorgeous Landmark Resort not only very kindly encouraged us to use their indoor (and outdoor) pool, they also provided us with a complimentary lunch one day at the Carrington Pub and Grill which not only has an absolutely astonishing view of the water, but also has an amazing milkshake that our grandson thoroughly enjoyed.
 We enjoyed the inside pool immensely on a cold, rainy day and were also able to enjoy the beautiful outside pool as well on a sunny day and could not get over the gorgeous view.
We spent part of our time at the outside pool drooling over the gorgeous condos which are placed right at the pool. They look wonderful and they have sixteen different room types, including suites and one and two bedroom condos. Which sound totally awesome and I could sit and look at this view for hours, so I'm sold on the idea of staying here.
In between trying to figure out how to entertain a little boy on the cold days, we did manage to have a few days that were warm enough for the beach. One of the nicest we found was in Egg Harbor, which is such a charming and quaint village that you could spend an entire vacation there.
Door County is comprised of several of these little communities and each one is pretty darn fabulous. We especially loved Egg Harbor though because they have a darling little beach.
The beach was great but the absolutely coolest thing about Egg Harbor was that they were having an Eggstravaganza.
Get it? Eggstravaganza because Egg Harbor?
I'm just going to admit that I had some difficulty wrapping my tongue around that word and my grandson had to keep saying it for me. In honor of the 50th anniversary of this little town, they had local artists create all manner of gorgeous and fascinating eggs that were displayed all over town. We were so mesmerized by this notion that we set aside time to pick up a map and check out just about every single one of the 50 eggs on display. Here's a video to give you an idea of what we saw.
Of course, we had our favorites. I wish I could share them all with you but here's the top three.
We decided it might be nice to see Door County from the water, so we booked a cruise with Shoreline Charters in the nearby town of Sister Bay. They have several different cruises that tour the area and we chose the Coastline, Cliffs and Caves cruise. Even though it was yet another cool and misty day, we still enjoyed the experience and I really recommend it.
Another way we managed to fill a lot of our time was with one of our favorite activities – eating. We ate our way through Door County and enjoyed every bite. By far, our favorite restaurant was The Cookery in Fish Creek where everything we ate was sourced locally, prepared in the restaurant kitchen, and served with pride.
The other restaurant we really enjoyed was not so much about the food but about the goats.
Yep. That's what I said. Goats.
Al Johnson's Swedish Restaurant in Sister Bay is kind of famous because they have a grass roof on their restaurant and the resident goats clamber right up there on wooden stairs and spend the day grazing and posing for the tourists. It's pretty cool and something that kids especially love.
 The food is good as well – try the Swedish meatballs because, well. It is a Swedish restaurant, after all.
So our week in Door County, even though we did have some rather cool and rainy days, turned out just fine. We enjoyed every day, every experience, and every meal. And we would love to go back. Maybe the weather will cooperate next time and we can check out more of the beaches – they have over 20 of them!
Full disclosure: Our adventures in Door County were provided by various businesses, but as always, we will share our honest opinions about any travel experiences we have.
Pin It