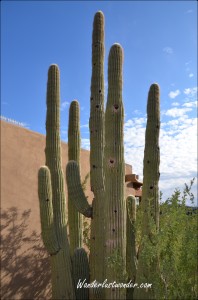 When the temperatures start dropping this fall or winter, it's the perfect time to start planning that trip to Phoenix, Arizona. This incredibly gorgeous and scenic location has the perfect weather in the cooler months of the year. While the desert weather is well into the 100's in the summer, the cool, dry desert weather is absolutely perfect in the fall and winter. Outside is warm enough to swim and relax by the many pools in the area, but cool enough in the evenings to enjoy a warm fireplace and hot rum toddy. With more than 300 days of sunlight every year, Phoenix and the surrounding areas offers a variety of lovely hotels, resorts, spas, tours and restaurants which will keep you happy and entertained during your stay. Each of the locations where we stayed and visited are within short driving distances of each other.
    Start with a couple nights at the Inn at Eagle Mountain in nearby Fountain Hills in Scottsdale, one of the many small towns that form a ring around the big city of Phoenix. Tucked away in the saguaro-dotted desert and surrounded by mountains, this resort has a beautiful pool and Jacuzzi, golf course, and gorgeous rooms and suites which all have lovely gas fireplaces to warm your toes on those cool desert evenings. We really enjoyed our fireplace in the evenings!
Read the rest of this article on Travelhoppers HERE.
Pin It