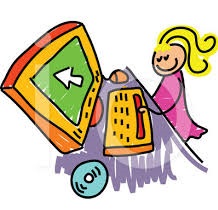 Ok, this is another instance of when I wasted a great deal of time before I figured out a much easier way to do something technologically related and decided why should you waste that much time as well?
You're welcome.
When I travel, I tweet. That sounds like it should be a bumper sticker but, in reality, during travel I do tweet a lot about what we are doing, where we are going, where we are staying/eating/having an experience. It's fun and it's nice for the companies I am working with as they get a little social media exposure.
The problem came about when I was working with a number of different companies during a trip which is pretty much always. Unless I had followed them all in a neat row on Twitter right before we left on the trip which happened never, I had to search for each one as I posted a tweet. This was not too much of a problem if they had chosen a perfectly logical twitter name but, because of a variety of reasons they may have chosen one that is completely illogical so that it would not automatically pop up when I starting typing their @username on my phone. In that case, I could either scroll through Twitter looking for them or go back to their web page, click on the Twitter icon and locate the name. This happened literally dozens of times before I decided there must be a better way. Couldn't I organize them somehow? Like in some sort of…list?
Well, of course you can.
As I found out when I searched and found this web site. Which tells you – amazing! – how to create a list in Twitter. So, now before I leave on a trip, I create a list of every single company I am working with so I can easily find them in that list. You can probably just use the web site but here's a little more detailed information about how I did it.
1. First you have to create a list by clicking on that little gear gizmo at the top of your Twitter page. I'm just going to admit that I spent an embarrassingly long amount of time searching for that gear gizmo before I did a search when they said to click on the gear because I had no idea what they were talking about.
 2. When you click on that gear, one of your choices will be "Lists".  Pick that.
3. Then, choose "Create a New List".
 3.  Give your list a name and save it. I was headed out on a press trip to the Emerald Coast, so that was my list.
 4. Now you have a list but there are no members so you have to go to each company you want to add and put them on your list one at a time. Go to their Twitter page and click on their gear gizmo at the top.
5. When you click on their gear, one of the options is to add or remove them from lists. Add them to your list.
Voila! Whenever you are on a trip, just scroll down on your Twitter page on your phone and you will see "Lists" as an option. Create as many as you need to keep yourself organized and make life easier. So handy! There may be a much better and easier way to do this and, if so, don't even bother to tell me because I have gone to a lot of trouble to figure this all out.
Oh, I kid. If you have a better way, by all means let us know.
Pin It