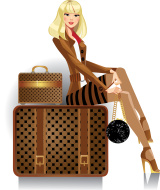 One of the most fabulous things in the entire world is traveling by yourself.
One of the most terrifying things in the world is traveling by yourself.
My feelings at this moment are veering towards the former but I'll let you know.
Tomorrow I will be jetting to the coast. The Emerald Coast. One of my favorite places in the whole world. And could I be any more cool than to say I am jetting to the coast?
I don't think so.
I was offered this press trip for a girls getaway and I actually hesitated even though it's going to be completely marvelous in every way because well. We are going to be in Destin again in about a month. So it seems a little silly to head there when I will be there in about a month but how can I pass up an opportunity to visit the beach yet again?
Well.
Could you?
I cannot.
So off I jet.
I was trying to think of the last time I have traveled alone and it was five years ago. Five years ago when I first started travel writing, I was offered a press trip to Cancun. I fairly leaped at the chance to actually begin my travel writing career but I was a little nervous at the fact that I would be traveling alone to a foreign country for the first time in…well. Ever.
It was a great trip. In every single way. Including the fact that I was all by myself and did not have to worry about keeping anyone happy but me. Just me. How awesome is that?
Pretty freakin' awesome.
So off I head. What are we doing, you ask? Glad you asked.
First let me tell you my favorite things in the world. Eating great food, especially seafood. Having lovely spa treatments. Shopping. Amazing accommodations. Wonderful activities.
Yep. We are doing all of those.
Great food at places like The Black Pearl and Cuvee Bistro the Asiago Skillet all of which are making my mouth water as I type.
A spa treatment at the Emerald Grande which includes a facial and can I just say that I have recently discovered facials and OMG I can't believe I went all this time without a facial. So, yeah. Excited about that. 
Shopping. You all. I have been shopping in Destin so many times and I can't believe I did not know that Destin Commons existed. And they have so many stores. Belk? My favorite place in all of the world. Charming Charlie? Best jewelry selection ever. Chico's? Yep. Fabulous. And that's only A-C. Just imagine what the rest of the alphabet holds.
Accommodations? Yes, yes, yes. Just found out I will be in a condo called Azure that sounds wonderful.
And all of those completely amazing things pale in comparison to the fact that I will be visiting the Gulfarium and can I just tell you about my history with the Gulfarium? The Gulfarium has been open since 1955. Since 1953 when I was born, we visited the gulf coast pretty much every summer. My grandmother lived in Pensacola, my mom was born in Pensacola, and the gulf was our home away from home and the only place I really remember from my childhood. We moved around a lot as my dad was in the Marine Corps but the smell, the feel, the look of that snow white sand is home to me.
So I have been to the Gulfarium as a child. I have taken my children to the Gulfarium. And a couple of years ago, I took my grandson to the Gulfarium. So I am all about visiting the Gulfarium yet again.
So.
Great food, spa treatments, shopping, amazing accommodations, and wonderful activities. Could I ask for any more?
I didn't think so.
I'll be writing about this phenomenal weekend very soon.
Just as soon as I recover from the fabulousness.
Pin It