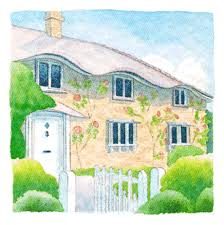 Hotels of all shapes, sizes, and price ranges exist all over the world. You can have privacy, room service, an amazing array of amenities, and the convenience of never having to clean your room. Restaurants, shops, tours, transportation are all available right outside the lobby door, so why in the world would you choose to stay in a Bed and Breakfast?
Because a Bed and Breakfast location can also offer those same bonuses along with a truly amazing and historical place to stay – not to mention a fabulous breakfast included in your rate. We have stayed in Bed and Breakfast locations all over the United States and find that we often enjoy them much more than a hotel stay. Here is an array of vastly different locations we have visited that you might want to add to your travel bucket list.
The Villa D'Citta in Chicago, Illinois
A lovely, historic greystone mansion located in the prestigious Chicago neighborhood of Lincoln Park which has been remodeled and furnished like an elegant Italian villa, this Bed and Breakfast is truly one of the most luxurious places we have ever stayed. With a beautiful, outside grotto and large hot tub, they have plenty of room for relaxing and even host cookouts in the summer. The back door leads into a nicely furnished and very comfortable lounge area with a fireplace which adjoins the dining area and the large, state of the art kitchen. The beautifully decorated living room is furnished with comfortable furniture for guests to gather and get to know one another. The Grand Tuscan Suite, where we stayed, is over 1,000 square feet and offers a flat screen television, fireplace, French doors out to a tiny but perfect terrace, and lovely hardwood floors. In addition, there is a huge bathroom with twin sinks, a marble soaking tub and a full steam shower. There is also another small bedroom with two twin beds which would be perfect for kids or another couple.  Of course a full, hot, and delicious breakfast is served every morning and fresh fruit and freshly baked cookies are available every day, but the kitchen is also kept stocked for guests and you are free to help yourself. The fridge is full of cold tea and lemonade, as well as the makings for paninis, pizzas, and waffles. A Panini maker, pizza oven, and waffle maker are just part of the incredible service here. You are also free to use the kitchen to prepare meals or to store takeout in the fridge. It's the perfect place to stay when visiting Chicago.
Read the rest of this article on Travel Generation HERE.
Pin It