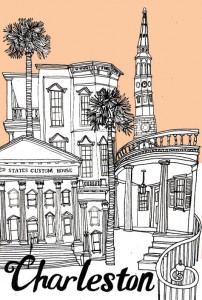 We didn't expect to love Charleston as much as we did. We had already fallen deeply in love with Savannah, Georgia and casually thought that Charleston would be very similar in many ways. It is a little similar in that it's another quiet, friendly, lovely Southern city with a water view and gorgeous, historic homes but Charleston has its own distinctive character.
 For example, Charleston has piazzas. We noticed these ubiquitous, long shaded porches along the side of many of the historic homes in Charleston but it was not until we went on a tour that we found out that they were called piazzas – and that the front doors of many homes in Charleston open on to the piazza, not into the house! Piazzas are the perfect place to relax in a rocking chair with a sweet iced tea and the ceiling fan lazily spinning above you – add a good book and I could spend a day there! Charleston also had literally hundreds of churches – hence the nickname of the "Holy City."
Charleston also has earthquake bolts. After suffering through several earthquakes, many of the historic homes had sturdy steel rods inserted through the house to stabilize them in case of another earthquake. The earthquake bolts can be in many different shapes, including a cross, and you can see them on many of the homes.
Read the rest of this article on Travelhoppers HERE.
Pin It