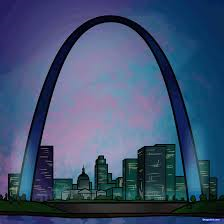 On your girlfriend getaway to St. Louis, you'll be looking up… way up! The St. Louis Gateway Arch is one of the main things that draws people to this beautiful city in the Midwest United States. Arcing over the city on the bank of the Mississippi River, the Arch is a 630 foot high monument to the westward expansion of the United States. Covered in stainless steel that gleams in the sun, the Arch is the tallest man-made monument in the United States, the world's tallest arch, and an internationally recognized symbol of St. Louis.
Embassy Suites: Perfect for Girlfriend Getaways
But before you visit the Arch and begin your tour of this amazing city, check into the Embassy Suites Downtown for a relaxing and comfortable stay. We have discovered that Embassy Suites is a great place for a girlfriends getaway because all of their rooms are suites with a completely separate bedroom, nice living room, a small kitchen area, and dining table. The comfortable couch in the living room also makes into a bed so you can easily have a two-bedroom setup. This is absolutely wonderful when you compare it to a small hotel room where you have no room to spread out and relax and you have to go out (and pay) for every single meal. There's even a very nice flat screen television in both rooms so if you don't agree on the evening's entertainment, no problem!
Read the rest of this article on girlsgetaway.com HERE.
Pin It