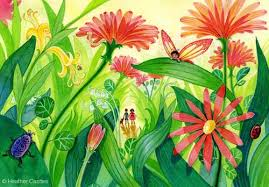 We actually visited The Butchart Gardens on Vancouver Island near Victoria last spring about this same time of year when we were on our fabulous Un-Cruise Adventure in British Columbia.
If you are in the area, these amazing gardens are absolutely worth a visit. Since it was early spring, I don't think we even saw them in their full glory but it was astonishingly beautiful, so the area is probably truly breathtaking in the summer. You will see every color of flower imaginable, beautiful fountains, and shaded walking paths that wend through the whole area. Allow plenty of time as you will want to stroll along and just enjoy everything.
Admission is pretty reasonable and well worth it. We were lucky enough to have afternoon tea included in our experience and I absolutely recommend this as the food was quite simply wonderful. It broke our hearts that we had to leave some of it behind but, since we were on a small yacht in a small cabin, there was just not room to store any of the lovely, tiny sandwiches or delightful little desserts.
So sad.
Also sadly, in my excitement and eagerness to consume as many tiny sandwiches and desserts as I could poke into my mouth, I neglected to take any photos of the food, so you will have to take my word for their fabulousness.  However, Tom did take dozens and dozens of lovely photos. So many photos that I decided not to choose but instead put them into a video so you could appreciate the beauty of this location. Un-Cruise Adventures is offering a similar cruise this spring and you should absolutely consider taking it as it was one of the best cruises we have ever experienced. In the meantime, check out the video.
Yes.
It's just that pretty.
Full disclosure: Our cruise and our admission to the gardens was provided by Un-Cruise Adventures but as always, we will share my honest opinions about any travel experiences we have.
Un-Cruise Adventures
888-862-8881
Sales@Un-Cruise.com
http://www.un-cruise.com/
Pin It