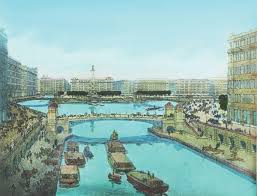 Hosted Activity
Now that spring is springing and folks may be planning summer getaways to Chicago, I think it's finally time I get around to telling you about the fabulous Chicago Architecture Foundation River Cruise that we took last summer. I had been meaning to do this but when we were in Chicago recently and they dyed the river green for St. Patrick's Day, it reminded me that I had never written here about the tour which was truly amazing.
Crazily, the Chicago River is dyed a very bright green in observance of St. Patrick's Day and we were lucky enough to see it this year. This tradition actually came about by accident when the river was dyed green to trace illegal sources of pollution but soon became a tradition. They now use powdered vegetable dye which does not pollute the river and takes days to dissipate although we thought the green faded amazingly fast.
The Chicago River was a perfectly normal color when we took our tour on a bright, sunshiny July day last summer. Famous as one of the reasons Chicago became a huge metropolis, the river is immortalized on the Chicago flag with two blue stripes.
To get to where the Chicago Architecture Foundation River Cruises leave, you can take public transportation because, honestly, you want to avoid parking in Chicago as much as possible as it's ridiculously expensive. We were staying at the lovely Hyatt McCormick Place which was fabulous in every way and we actually walked to the Chicago River for the tour. It took about 45 minutes but was an easy and entertaining walk with lots to see and plenty of places to get a bite to eat.
There are signs but the entrance to the lower level where you buy tickets is a little hidden so just wander around enjoying the scenery until you find it.
It's a really good idea to get your tickets online because this is an extremely popular tour and there will be long lines of people buying tickets and waiting to board. Also, get there early even if you already have your tickets so you can get a good seat. Try to get a seat on the top level but be sure to bring a hat, some sunscreen, and some bottled water as the sun can be really warm. There is also a covered area if you prefer some shade. Go ahead and get in line as soon as you buy your tickets and the boat will be along shortly to let off the passengers from the previous tour. The tour is 90 minutes long and covers all three branches of the river, which I was astonished to learn is actually 156 miles of river and canals. Needless to say, the tour does not cover all 156 miles!
There is a tour guide on the boat and he will tell you all about what you are seeing. The architecture of Chicago is truly amazing in many ways and influenced the history of architecture in the United States. The city features an astonishing array of prominent buildings in a huge variety of styles by many different and important architects.Since most buildings within the downtown area were destroyed by the famous Chicago Fire of 1871, the buildings are mostly noted for their originality rather than their history because in the early 1800's, architectural pioneers of the Chicago School of architecture began using steel-frame construction and large areas of plate glass – hugely innovative for the time. These buildings were the first skyscrapers.
We headed out under a bridge and began our cruise tour.
 One of the first things we saw was a large banner celebrating the Blackhawks hockey team. They had just won the Stanley Cup and Chicago was in the middle of a huge celebration; we actually got caught up in it the next day.
We were immediately awed by the massive buildings towering over us. It was like being in a tunnel at times.
It was easy to get caught up in the gorgeous architecture and forget we were on a river until we passed under bridges, by pilings, and saw seagulls flying overhead.
Some of the buildings soared so high and had so much glass, that they actually reflected the clouds.
The buildings were not too high for window washers. Can't imagine having this job!
One of the ambitious projects of the city is to complete a River Walk that will run along beside the river for miles with walking paths, gardens, restaurants, and shops. Years ago, the river was polluted and nobody could imagine living near it or spending time strolling beside it but that is rapidly changing. We saw shops, restaurants, a walking path, apartments, and pretty tree-lined parks along the river.
I'm sure parking is a problem for these city dwellers. We did see one huge, interesting parking structure.
We were really surprised to see kayakers on the river – a true sign that this city river is cleaning up!
 We meandered along the branches of the river until we came out near Lake Michigan, made a turn, and headed back.
We honestly couldn't believe 90 minutes had passed as the tour was extremely interesting. It really gives you some insight into the history of architecture in Chicago and the scenery is truly amazing. They actually offer a number of different architecture tours, including trolley and bus tours. So if you are in Chicago, check them out!
Full disclosure: Our tour was provided by The Chicago Architecture Foundation but as always, we will share my honest opinions about any travel experiences we have.
Chicago Architecture Foundation
224 South Michigan Avenue, Chicago, Illinois, 60604
312.922.3432
http://www.architecture.org/tours
Pin It