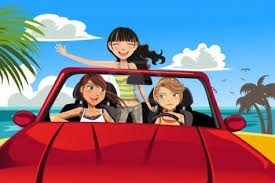 My husband does not like the beach and he does not like shopping. These happen to be two of my very favorite things so if I want to experience them; I have to take my girlfriends when I travel. Luckily, I have great girlfriends and some family members who are also good friends so it's not a problem to find travel partners. Making sure those friends are also good travel partners who will provide a fun and stress-free vacation, however, takes a little foresight and planning. Here's how you can also organize the perfect girlfriends getaway.
1. Choose your travel companions carefully. There is nothing quite like a trip together to really show how much you can get along with your friends. If you have a problem having lunch together and argue over the least little thing, this is probably not a person you want to share a hotel room with for a week. I just spent ten days at three different resorts with my sister-in-law and we never had one disagreement. She is sweet, easygoing and the perfect travel partner. I would travel with her anytime. I have acquaintances who indicate often they would love to go on a trip with me sometime. Believe me, that will never happen with some of them.
2. Talk about money. It's vitally important to know how much (or at least a general idea) your travel companions have in mind to spend on this trip. Nobody wants to run out of money in the middle of a vacation. If they want to order expensive champagne with dinner, that's just fine, but if they expect their friends to share the cost, that's something that needs to be discussed. On a recent trip, I really wanted to spend time at the local outlet mall. My friend really didn't have money for that on this trip. No problem, I can do that on another trip.
Read the rest of this article on Girlsgetaway HERE.
Pin It