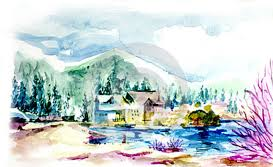 Hosted Accommodations
The High Hampton Inn is closed right now for the season. Snow blankets the Blue Ridge Mountains of Cashiers, North Carolina and this wonderful family resort is tucked in snugly for the winter.
But come April, this lovely location will welcome all the families who have been returning for visits over the decades. I spent a few days there last summer with our grown daughter and seven year old grandson and we learned just why this place is so incredibly popular that families return year after year, even booking their next vacation before they head home.
We made the drive though the beautiful Blue Ridge Mountains, winding our way through the thick spruce, fir, oak and hickory forests which combine to create a blue haze when the mountains are seen from a distance, thus earning them the name. We actually took this photo when leaving, but it gives you an idea of the beauty of this area.
We pulled into the resort grounds and were immediately amazed at the beauty of the mountains soaring into the sky which surround the resort. This is truly one of the most idyllic locations for a resort that I have ever seen.
We pulled into the parking lot and strolled into the lodge, instantly marveling at the wonderful, historic building and the comfortable lobby with its large fireplace and cushy furniture. The High Hampton Inn opened in 1922 and the sanctuary-like atmosphere created by the beauty of the pristine 1400 acres and the rustic cottages, luxury homes, and historic lodge makes you begin to relax as soon as you enter the property. Reminiscent of a lodge in the Adirondacks that you might have seen in the movie "Dirty Dancing", the main building is the place where everyone gathers in the large dining room for each meal.
We checked in at the reception area, then headed to the Watson Cottage, a three bedroom cabin located beside a clear mountain stream with a huge front porch, complete with rocking chairs to enjoy the view. This is a simple and rustic resort, not a luxury experience, but we enjoyed every minute.
Although the web site says there are no televisions in the cottage, we indeed had one in our living room which was a relief when we had one rainy day and was also very welcome for a little boy who wanted to watch cartoons in the morning. The Watson Cottage was large with a nice living room, kitchenette and dining area, and two full baths. We were not very happy with no air conditioning but knew to expect this when we made the arrangements. The mountain climate is cool in the evenings but it was pretty warm during the day, even with all the windows open and fans blowing. Just be aware that you may need to jump into the 35-acre mountain lake to cool off – which is not a problem!
We spent the days enjoying all the activities the High Hampton Inn has to offer and I will tell you all about those in more detail in another post, especially the hike with llamas.
Yes.
Llama hiking. That's what I said.
The resort has plenty of lodging options. In addition to the 17 mountain cottages, you can choose to stay in one of 116 guest rooms and suites in the main lodge itself – all of which are air-conditioned! The resort also has luxurious vacation rental homes which are available through December and are fully furnished including a great room with cable TV, fireplace, fully equipped kitchen, and outdoor grill. The rental homes range from two to five bedrooms, each with a private bath and are located on beautiful wooded lots, many with cathedral ceilings and large picture windows to enjoy the incredible views.
Best of all, rates for the vacation rental homes include full daily housekeeping service – which we also had in our cottage. They will even deliver firewood before you arrive and stock your kitchen. What a great getaway! This would be the perfect destination for a fall or winter family trip or couples getaway with some friends.
The cottages, lodge, and rental homes all have great views but some have pretty spectacular views.
One of the best things about the High Hampton Inn turned out to be the food. This is one of the few places I have visited in the United States that includes three full meals in the rates for the lodge rooms and the cottages. We arrived in the afternoon, so our first meal in the lodge dining room was that evening for dinner. We were prepared for the fact that, in a unique and quite pleasant change of pace, guests were expected to dress for dinner. What a nice change of pace to see people actually dressed up for once!
Men wore coats and ties, women wore summer dresses or dressy slacks, and kids were in their Sunday best. Breakfast and lunch are more casual, although this is not a place to wear your bathing suit to lunch. Sunday lunch is once again dressy and offers a sumptuous buffet including their famous fried chicken. I couldn't imagine why it was so famous until I tasted it.
Then I knew.
The dining room is closed until right before the meal, so guests congregate in the lobby, chatting and relaxing until the dinner bell is rung. We were guided to our table where we discovered that this would be our table for the entire time we were staying at the resort and a placard stating this was our table stayed on the table for the entire time. This came in very handy on Sunday when many of the locals swarm to the lodge for the famous fried chicken.
As you would if you lived nearby.
There were a variety of buffets set up but they also offered a station where they would create stir-fry for you and this was absolutely delicious. On Saturday, they also have a fresh omelet bar which is equally delicious. But the dessert buffet was probably our favorite place.
We loved everything about our visit but one thing that impressed me the most was how kind everyone who worked at the resort was to my grandson. It's no wonder families keep returning year after year if this is the kind of treatment their children receive. He can sometimes be a little picky, like most kids, and one night he just couldn't find anything on the buffet that appealed to him. Our waiter noticed he was not happy and asked if there was anything else he would like. Even though it was not on the buffet, he offered pizza or chicken nuggets. Wes chose chicken nuggets and, within a few minutes, it was placed before him. What service!
If you are planning your spring or summer getaway, you should definitely consider the High Hampton Inn. If you are still not sure, check out this video. Then make your reservation!
Full disclosure: Our stay was provided by The High Hampton Inn, but as always, I will share my honest opinion about any travel experiences I have.
Pin It