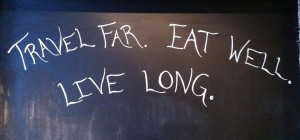 My husband and I are fans of food. Lots and lots of different kinds of food. We have enjoyed a fabulous gourmet restaurant in Las Vegas and a beachside hamlet in Mexico where he had his very first Corona. We love it all. But it's difficult, time-consuming and expensive to attempt to sample a variety of restaurants in the many places we visit, so we have figured out the perfect solution – local foodie tours. For roughly the price of one nice restaurant meal, you can enjoy samples (some quite substantial) at a variety of restaurants, bakeries and other, more unique venues like vinegar and oil shops and chocolatiers. It's also a great introduction to a location as the tour guides are invariably knowledgeable about the area. Foodie tours are a great way to find the best local specialties – and determine which you location you want to return to and sample even more goodies!
We first discovered foodie tours in Amsterdam where we sampled some of the best cheese in the world at the Reypenaer Cheese Tasting Rooms. Located right near Dam Square and easily accessible via one of the many canal boats, this location has a schoolroom like basement complete with tables and chairs. There, they introduce you to a wide variety of their cheeses, accompanied by lovely glasses of wine and expert commentary on what you are tasting.
Read the rest of this article on Travelhoppers HERE.
Pin It