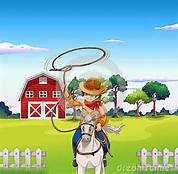 When the Leo Carrillo Ranch in Carlsbad was suggested as a place to visit when we were in the area, we had no idea what to expect.
A ranch right in the middle of this developed area?
But we are so glad we fit a visit into our schedule. It's a beautiful, serene area to explore.
Hidden away in the middle of the lovely 27-acre canyon, the historic park contains hand-crafted adobe buildings, antique windmills, and plenty of other historic structures, along with beautiful landscaping and the resident, brilliantly plumed peacocks.
In 1937, Leo Carrillo, who was a renowned actor most famous for starring as Pancho in "The Cisco Kid", a popular television series about two Robin Hood like desperadoes in the American West, wanted to find a retreat where he could build an old California-style working rancho. He came across the Rancho de Los Kiotes and bought 840 acres where he began construction of several structures. Over time, the ranch spread out over 2,538 beautiful acres. Leo loved visitors and welcomed plenty of them to the ranch – many of whom were the major stars of the day. They spent time horseback riding all over the huge ranch.
We left the "June Gloom" of the coast behind and actually drove into a gorgeous, sunny day. We pulled into the gravel parking lot of the ranch and were immediately entranced by the lovely landscaping and historic wooden and Adobe buildings scattered all over the property. Only a very small remnant of the ranch remains today but it has been turned into a historic park and visitor destination.
 Making our way up a path to the Visitors Center, we passed gorgeous flowers, trees, and plenty of agave and cactus.
The Ranch is a designated Historic National Landmark and was opened to the public in August 2003. It is connected to the citywide hiking trails system via the 4-mile long Rancho Carrillo trail and is a great place to hike, especially when the weather is beautiful, as it was for us. Self guided walking tours of the building exteriors and park grounds are available during normal park operating hours as well as free guided walking tours at certain times, but we were lucky enough to find a kind gentleman working in the Visitors Center who spent a couple of hours showing us around the place and telling us all about the place. In the Visitors Center, we first watched a 13 minute introductory film on the history of the ranch and the life and career of Leo Carrillo. We both had a vague recollection of the "The Cisco Kid" television show but it was actually a little before our time as it ran from 1950 – 1956.
The original ranch was actually a working ranch and the original barns are still there, along with some examples of where the working men may have slept. Doesn't look very comfortable!
We loved everything about the place but you should be aware that there are irregular earthen and paved surfaces, including some with stairs. You should wear tennis shoes or hiking boots and be prepared to walk long distances up and down sloping hillsides. Wear cool, comfortable clothing if you are there in the summer,  and wear a hat and sunscreen. It's a good idea to bring drinking water. There is a fountain in the Visitors Center but that seems to be the only water in the place to drink.
After our snake encounter at the lagoon, I was a little nervous to see this sign but we never saw any snakes while we were there. Obviously, or this post would be a whole lot shorter. Something like we saw a snake. And then we left.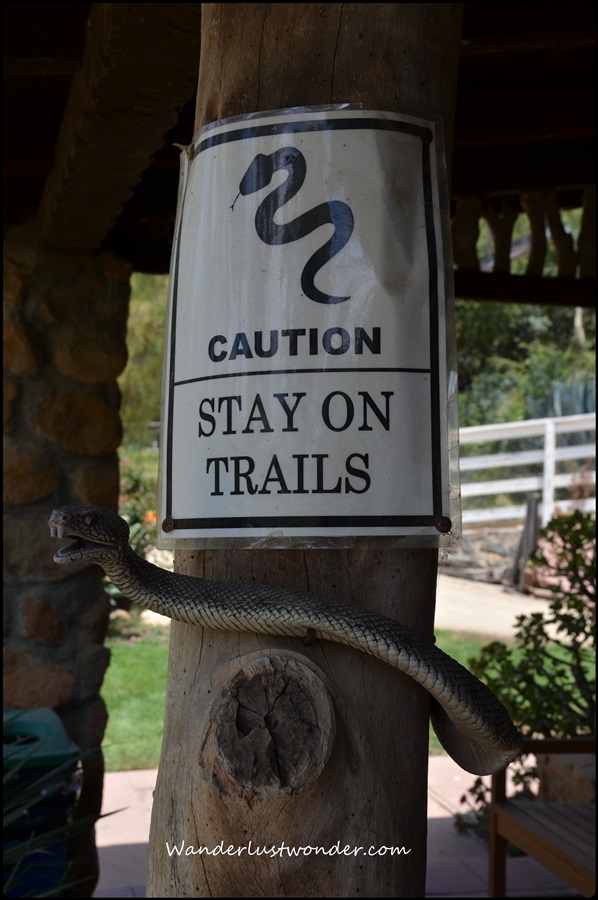 The original ranch house is a lovely, white structure that was built with a Spanish influence and has an open, cool and beautiful patio area in the center.
We had seen several peacocks around the area as they are welcomed here, including a proud mama and baby.
But at the ranch house we saw, for the very first time, a male peacock showing his tail feathers in all their glory.
Leo Carrillo's wife was an artist and he built her a studio where she could work and have some privacy.
The ranch is also used for events and they were setting up for a wedding when we were there. It would be a fabulous place to have an event.  We loved everything about our visit and really recommend you stop by if you are in the area.
If you see any snakes, don't even tell me. I just don't even want to know.
Pin It