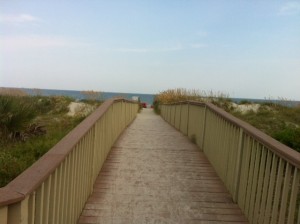 The official first day of fall has come and gone, the weather is slowly getting cooler and the days shorter so beach vacations may seem like a thing of the past at this point but, in reality, this is absolutely the best time of the year to visit many beaches. After Labor Day, the crowds diminish as children head back to school, and the prices are lowered, but the weather in many of these areas is still warm enough to enjoy the beach, have a swim, have some great seafood, shop and visit the local spa.
Here are five suggestions for locations we have visited in the fall that make perfect beach destinations for this time of year.
1. Tybee Island, Georgia. Located right off the coast of Savannah and frequently referred to as "Savannah's Beach", small and quaint Tybee is a beautiful place with lovely, tan sand beaches and some great
seafood restaurants. We have stayed in a darling, hot pink cottage steps from the beach we rented from Mermaid Cottages and a sprawling, luxurious, huge beach house just a few blocks away from the beach that we rented from Tybee Joy Vacations. Both rental agencies have a wide variety of cottages and houses available. Be sure to have dinner one night at Coco's Sunset Grille and order the fried strawberries for dessert – they are unique and incomparable! Savannah is only a 15-20 minute drive away so spend a day taking a Segway tour, shopping on River Street, walking through the gorgeous neighborhoods of mansions and parks then have dinner at The Pirates House where sailors were shanghaied years ago to serve on sailing ships.
Read the rest of this article on Travelhoppers HERE.
Pin It