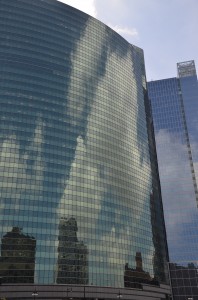 Winter is not a pleasant time in Chicago. The bitter wind whistles off frozen Lake Michigan and cuts through pretty much any item of clothing so residents of the Windy City spend the winter hurrying along city streets, hunched over against the wind, rushing to get home and get warm. But summer in this beautiful city nestled on the shore of the lake is a different story. Those same winds become cool, refreshing breezes which make any hot, sultry day cooler and more refreshing. The best place to be in mid-summer in Chicago is near the lake and luckily, the Hyatt McCormick Place is located within an easy walking distance of the water.
Book a room as high as possible and on the lake side for the best view of the lake and the city – we had a corner Executive Suite and enjoyed a 180 degree view of both out of two huge windows. With a walk-in closet, two big flat screen televisions, a small fridge, and a separate living room and bedroom area, it's a great room to use for your getaway. Plan at least one meal at Shor, one of the restaurants in the hotel, a contemporary restaurant that serves delicious steaks and seafood.
Read the rest of this article on Ky Doc Magazine HERE.
Pin It