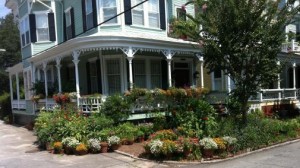 Keep driving through the state of Georgia until you reach the Atlantic coast and you will find yourself in Savannah, one of the loveliest cities in the South. Huge live oak trees festooned with Spanish moss line the streets in front of sprawling, gorgeous antebellum homes, each with lush gardens more beautiful than the last. The Savannah River, wide and calm, winds through the city beside River Street where cotton warehouse established 200 years ago have been converted to quaint shops, restaurants and beautiful hotels overlooking the river.
There is an atmosphere to Savannah which is unlike any other city; a sexy, sultry, southern atmosphere which is reinforced by the warm, humid summers and the easy-going friendliness of the inhabitants of this fair city. This is not a place where they rush to get things done; this is a place where they relax on shady patios with a tall glass of sweet iced tea and watch the world go by. You are going to love it here.
Read the rest of this article on Travel Generation HERE.
Pin It