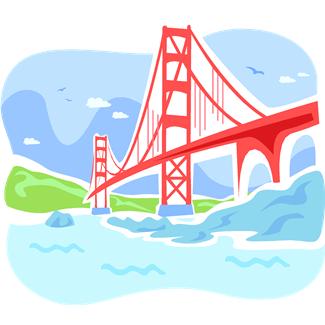 The first thing you need to know about your completely fabulous getaway to San Francisco is that you are going to be friggin' cold. Doesn't matter if it is winter, spring, summer or fall, this beautiful city is pretty much always chilly, especially in the evenings, especially near the bay, especially if you are actually on the bay taking at tour. So wear layers or tuck a wrap or sweater in your bag because it's better to be prepared as the Boy Scouts always say.
Being toasty warm will help you enjoy your visit to this hospitable and friendly city where they are so very friendly that they love dogs just about as much as people. Everyone in San Francisco seems to own a dog so they are pretty much welcome everywhere, even in many of the hotels. This is certainly true at the kitschy, boutique Argonaut Hotel which is located in the historic Haslett Warehouse right on Fisherman's Wharf. The gorgeous brick building offers truly unique accommodations, many with exposed brick walls and wooden beams and views of the Golden Gate Bridge. Built in 1907 but beautifully restored, you will enjoy the warm fireplace in the lobby and the complimentary hosted evening wine hour.
Read the rest of this article on Girlsgetaway.com HERE.
Pin It