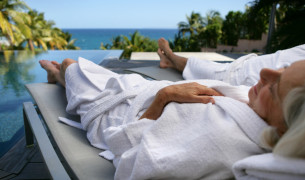 Planning a special getaway for that special mom this year? Check out these ideas for some fabulous locations—and have a great trip!
Best Cruise Destination: Bermuda
Cruise ships visit this lovely, temperate island in the Atlantic and stay for several days, giving you a chance to really experience the pink sand beaches and fabulous shopping. Visit the Crystal Caves, check out the glass-blowing artists at The Bermuda Glassworks, shop for the beautiful purple-blue stone Tanzanite in some fabulous local jewelry, and be sure to try the famous local rum concoction—a Dark and Stormy. Locally caught seafood is the item to order at any of the area restaurants—the taste of that fresh fish is truly fabulous. Many cruises to this port leave from New York, so you can easily add on an overnight stay in the Big Apple that includes dinner and a show.
Best Beaches: Riviera Maya, Mexico
Just a short drive from the crowded and touristy Cancun, quiet and beautiful Riviera Maya has white sand beaches and gorgeous turquoise water that's always warm and pleasant for a swim. Stay at the incomparable Zoetry Paraiso de la Bonita where the Endless Privileges price includes virtually everything for your stay—a private, chauffeured airport transfer, gourmet meals and snacks, 24-hour laundry service, a Catamaran sail, unlimited worldwide calls and a stay in an absolutely fabulous suite, many of which come with a private plunge pool. Enjoy sparkling wine and fresh fruit daily in your plunge pool with a view of the ocean—a truly relaxing and decadent experience!
Read the rest of this article on Travel + Escape HERE.
Pin It