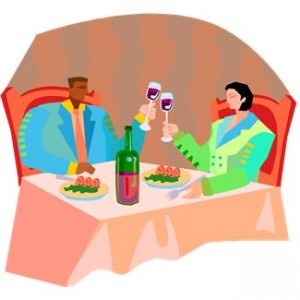 We almost missed The Oar House. Tucked away on a mountainside in Dahlonega, Georgia overlooking a scenic river, this fabulous place is a little hidden if you don't watch carefully for the sign.
And we didn't believe our GPS when it clearly told us where the restaurant was located. It was getting dark, we were getting frustrated, and finally we just called the restaurant and they kindly directed us right to it.
Right where our GPS had told us it was.
And once we saw this quaint and charming restaurant in a transformed older home, met the friendly and kind owner, Leigh O'Brien, who owns it with her husband Tim, and tasted the sumptuous food, we were so, so glad we had found it.
Leigh welcomed us at the door and ushered us into a warm and welcoming environment with a fireplace, small twinkling light strewn everywhere, and two lovely decks overlooking the Chestatee River. The deck area was quite large and would be great for any kind of event; in fact, Leigh told us they have lots of wedding receptions there.
After admiring the view for a while, she showed us to our table in a private alcove overlooking the river. If we had picked a table ourselves, it would have been this one.
We soon discovered that Leigh was not the only sweet and friendly person at The Oar House when we first met our waitress and then the chef who asked if it was OK to bring us what he would like us to try from the menu. As this is our favorite way to sample some of the items of which they are the proudest, we readily agreed.
And we were so glad we did.
Because we would never in a million years have chosen dates as an appetizer.
Dates.
Dates stuffed with monchego cheese, chorizo, and wrapped in smoky bacon.
Who could have guessed that these were the epitome of deliciousness? Our waitress brought out a plate with the aforementioned dates, bread, cheese and grapes. We both hesitantly took a date to sample and then almost came to blows over who would get the most dates.
These are the best dates you will ever eat in your life, no exaggeration. Our waitress told us that, when people come too late and they are out of dates (because they are handmade and they can only make so many), individuals have been known to get a little testy. I can imagine as I would get pretty testy if I was planning on eating these and found they were sold out.
 It would be a true culinary nightmare.
So get there early if you want the dates.
And you do want the dates.
I got so excited about telling you about the sublime dates that I forgot to tell you that first they brought out these delicious little parmesan cheese rolls that are also handmade and equally fabulous.
 Luckily, the appetizer plate and rolls were not quite enough to spoil our appetite, because then we had a wonderful crab cake and delicious trout that was melt-in-your-mouth tender.
At some point, we must have passed into a food coma from deliciousness because I'm pretty sure we had another plate of entrees which included possibly steak and pork chops but I must have been so overwhelmed by the fabulousness that I neglected to take a picture.
However, I can guarantee that it was wonderful. Because everything we ate was wonderful.
We also had desserts but we were so full at this point that we got them to go then proceeded to eat them later in bed out of their white styrofoam containers and, by the time I realized I should have taken a picture, there were only crumbs left.
I am the worst food photographer EVER.
So you will have to take my word for it that they wonderful.
As was every single bite we ate at The Oar House.
Great location, friendly people, quite fabulous food – what more could you possibly ask for?
If you are in Dahlonega or anywhere close, you must stop by.
And now I must go make a snack because food writing makes you hungry, although it will not approximate the wonderfulness that is those stuffed dates.
No. Possible. Way.
Full disclosure: Our dinner was provided by the The Oar House but as always, I will share my honest opinion about any travel experiences I have.
Pin It