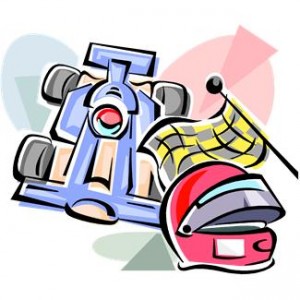 Although I was most excited to try kayaking for the first time during our visit to the incomparable Elkhart Lake, Wisconsin, Tom was most intrigued when he saw Road America listed on the itinerary we received for our press trip.
And when we mentioned our trip to Elkhart Lake to two friends who are from Wisconsin, the first thing they both asked was whether we were going to Road America. Apparently, unbeknownst to us, we had planned a trip to a town that was famous for some sort of race track.
Although I had some reservations about visiting Road America on our trip because I think watching a car race is roughly as exciting as watching golf and now I have alienated both the car race enthusiasts and the golf enthusiasts, it ended up being one of the highlights of our trip. Mainly because there was no actual car racing watching at the time, although I'm sure that is equally exciting as what we did if you like that sort of thing.
Which Tom does. And would have been absolutely thrilled to watch cars drive around and around a track for hours.
Road America is one of the friendliest places we have visited and they know all about keeping a large crowd of people happy. But let me back up and tell you how this race track, basically in the middle of nowhere in the Kettle Moraine of Wisconsin, got started. Back in 1950, a group of car racing enthusiasts decided that Elkhart Lake was the perfect place to run a race. A beautiful little village, friendly people, a perfectly gorgeous lake, and plenty of open country with quiet roads where the racers could really get up their speed combined into the perfect ingredients for a race track.
The first race was held on a 3.35 mile circuit North of the lake and, astounding as it may seem, the race actually ran right through the center of town. Because Elkhart Lake is very proud of their racing history, there are markers all over to show the location of this first race – and part of the race track is in front of the Osthoff Resort where a closed pedestrian walkway by the lake provides a scenic area to stroll by the lake.
They raced on the open roads for a few years but when the state legislature banned racing on public roads, leaders in Sheboygan County got together and decided to build themselves a race track. And so Road America was born. Built on 640 acres south of Little Elkhart Lake, the natural rolling and lovely topography of the glacial Kettle Moraine was emphasized and a track four miles long was built, which makes it the longest road racing track in the country.
Drive through the gates of Road America today and it becomes obvious that this is not just a race track but a big business. Over 70,000 visitors come to the track every year from all over the world and Road America has been smart enough to diversify with events and programs offered all year round. We were amazed when they told us that they welcome campers – you can camp anywhere at Road America where you can find some grass and it's totally free. When they have a big event, the grass is covered with everything from small tents to huge RV's.
There were no races going on when we visited but they had no problem keeping us entertained with both Go Karts and UTV's. And when Tom heard that he was going to get to drive a Go Kart AND a UTV he was beside himself with joy. The staff at Road America could not have been nicer as we first toured the grounds which are incredibly beautiful – picture an amazingly maintained state park that just happens to have a race track. One thing Road America is known for throughout the racing circuit is their food. Don't even think they are going to offer you a stale hot dog and a watery beer – oh, no. This place has food stands manned by local groups which offer an incredible and delectable variety of offerings. They even had a marvelous buffet spread out for us in the beautiful dining room of the clubhouse. If I was actually going to watch a car race? It would be in a fabulous place like this dining room.
They also offer driving and motorcycle schools, as well as a variety of competitions and other events. And these are all in addition to the regular car racing. More than 400 events take place each year at Road America, so there is pretty much something for everyone here.
After our tour, we settled down on some bleachers for instructions about the Go Kart racing. Not a fan of going fast in any sort of situation, I abstained and was appointed the official photographer of our duo.
   After our briefing, the group got their helmets and their Go Karts and were ready to head out to the track.
Tom and the rest of the people in our group absolutely had a blast with the Go Karts. It wasn't actually a race; just a fun way to spend an afternoon jetting around the track on a beautiful fall day. It would be the perfect thing to do with a family group and, now that I have seen how much it is, I would like to try it sometime as well.
The Go Karts looked like a lot of fun but I was much more excited about our next experience – taking a UTV off road. Actually, until that afternoon, I had never heard of a UTV. I had heard of ATV's but a UTV is a Utility Terrain Vehicle and the ones they have are side by side, which means I could just sit in the passenger seat enjoying the experience while Tom drove. And I was all about that.
In reality, the UTV was very easy to drive and I think I could have handled it but Tom was having such a blast I didn't want to take the wheel even though he kindly offered me a turn. I was too busy making a movie of the experience. Here ya go.
Even though I went into our time at Road America with some trepidation, we both ended up absolutely loving every minute of the experiences we had there. When you plan your trip to Elkhart Lake – and you should plan a trip there immediately – you must include some time at Road America in your schedule. Here's just a few of the events they have coming up in 2013. Have a ball – and let me know about your experiences!
Full disclosure: Our experiences were provided by Road America, but as always, I will share my honest opinion about any travel experiences I have.
Pin It