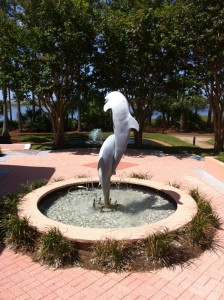 It was true love.
I was in love with this beautiful lanai patio which overlooked the gorgeous pool, the incredible landscaping and the quiet St. Andrews Bay in front of the resort. I sat down at our little private table with the ceiling fan rotating quietly overhead and just relished the fact that I was at the lovely Bay Point Wyndham Resort, near Panama City Beach, Florida.
My sister, sister-in-law and I were on a girlfriends getaway and had actually been a little hesitant about staying in Panama City Beach, Florida based on a not so relaxed visit years ago to the very, very busy beach town. Panama City is still an extremely popular place but the Wyndham Bay Point Resort is located several miles from the city and is a lovely, quiet refuge from which we only ventured a couple of times for seafood dinners in Panama City, then scurried away from the crowds back to our fabulous resort.
Read the rest of this article on Girlsgetaway.com HERE.
Pin It