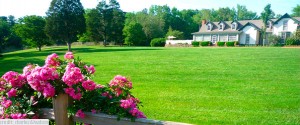 At some point, as you travel through the foothills of the Blue Ridge Mountains on your way to the incomparable Barnsley Gardens Resort, you are going to think you have made a wrong turn.
A lovely, luxury resort tucked away in this quiet, country setting? Surely not. And, just as you are about to give up and decide this absolutely cannot be the correct route, you see perfectly landscaped grounds and a meticulously groomed driveway.
Beautiful and just out of reach, because it was all behind a closed gate with a pleasant but firm guard manning it who politely asks for your name to ensure you've already registered before he ever opens the gate. We had somehow missed that one important step.
My sister and I, on a girlfriends getaway, followed his directions and traversed the road back to the registration area, marveling at the truly incredibly and lush landscaping on display throughout the 1300 acres of this gorgeous place.
Read the rest of this article on Girlsgetaway.com HERE.
Pin It