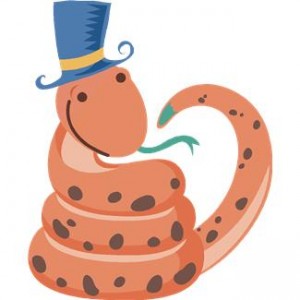 It all started with the snake. No, not a real snake. Do you know me at all?
Snakes belong in cages or somewhere far, far away from me where they can eat mice and be part of the circle of life and I never, ever have to see them.
It was a stuffed snake we bought for our grandson when we were in Arizona. We carried Ralph around for almost the entire trip and, when we were ready to head home, I stuck him in my purse, took a picture and sent it to our grandson, telling him that Ralph couldn't wait to meet him. Ralph was technically supposed to be a rattlenske, since our grandson was convinced we were going to see them all over Arizona, but all we could find was a boa constrictor. Close enough.
Our grandson was thrilled with Ralph and, when our daughter told us how much he loved him and how we should have sent more pictures, we figuratively slapped ourselves on the foreheads. We should have taken more pictures of him! All over Arizona! In the desert!
Well, we would not let that opportunity pass again.
When we headed out on our press trip of Navarre Beach, we decided to stop for a few days in Gulf Shores, Alabama because we had been there for our honeymoon back when dinosaurs roamed the earth. We had a lovely time at the Perdido Beach Resort, gorged ourselves on seafood at Lulu's and, in a gift shop at the Perdido Beach Resort, we found Sammy.
Sammy the shark.
Sammy loved the Perdido Beach Resort. Especially the view.
He loved the buffet breakfast every morning and was quite a fan of the waffles.
We spent an entire day in Mobile at the gorgeous Bellingrath Gardens and discovered that Sammy adores flowers.
Surprisingly, given his macho reputation, Sammy likes to shop.
Now, you might think that I was the only who was getting into the whole idea of this stuffed shark accompanying us everywhere, taking pictures of him and generally enjoying the silliness of it.
You would be so wrong.
Tom was just as silly as I was. When we drove to Mobile, we passed a souvenir shop in Orange Beach that had this ridiculously huge shark outside. He just about drove off the road in his excitement at the idea of taking of picture of our shark with that shark. Together.
See? See how cool that would be? Yes, dear, I see.
He made sure we stopped on the way back to get a picture or him and our shark with the big shark.
 In respect to honest journalism even when writing about a stuffed shark, I must tell you that Sammy enjoys a brewski every now and then. As does Tom.
From Gulf Shores, we headed to Navarre Beach where Sammy proceeded to have a whole series of adventures. He loved staying at our gorgeous condo at Summerwind, courtesy of Gulf Blue Vacations.  He had a ball at the Navarre Beach Marine Science Station.
 Sammy also really enjoyed visiting the Gulf Breeze Zoo.
Sammy was very adventurous and he was all about zipling at Adventures Unlimited.
 All these activities were great but we are at the beach, right? Let's hit the waves! Or at least the beach chair.
After a long day in the sun, there is nothing like a beer on the Navarre pier. And if it's Saint Patrick's day, that beer should be green. Of course.
Sammy had a great time on the Gulf Coast. As did we.
But even tough little sharks get tired after a long day of fun in the sun.