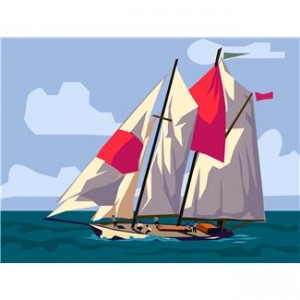 It all started with lovely, Spanish moss-draped Savannah, Georgia. I read somewhere that the Tall Ships Challenge – a series of races and cruises up the Atlantic coast by huge and beautiful wooden rigged sailing ships – was going to be in Savannah. I don't know much of anything about ships. I have no idea how to sail. But there was something about these fabulous ships skimming over the water that stirred my blood, that made me want to sail the high seas, that made me realize I just had to see them.
So I began plans to visit Savannah again. And, in one of those synchronous events that often happen, the Savannah Convention and Visitors Bureau was sponsoring a press trip about the Tall Ships Challenge. I wanted to come to Savannah? I wanted to see the Tall Ships Challenge? I could write all about it? Done, done and done. I was in the group of journalists. Not only would I get to see the ships, there was mention that we would actually get to sail on one of the ships. Sail on one of them.
My life is complete.
We are staying at the River Street Inn which is, quite aptly, on River Street. Last summer when I was in Savannah, River Street was absolutely one of my favorite places. Great seafood restaurants, tons of shops, original cobblestone streets and tons of atmosphere. We will be staying right there, overlooking the water and the tall ships. In heaven.
Then we started thinking that was a long way to drive and maybe we should stop on the way. So, I pulled out a map and found Asheville, North Caroline. Roughly halfway between Lexington, Kentucky and Savannah, Georgia. OK. Fine. I wonder if there is much to see in Asheville, North Carolina? Hmmm. Turns out there is a lot to see in Asheville since the Biltmore Estate just happens to be there.  In fact, when we realized just how lovely Asheville is and how much there is to do, we decided to stay a few days. Two days at the Hilton Ashville Biltmore Park and two days at the Grove Park Inn. Both properties look so lovely, that we may never want to leave. But we will. Because we decided, since we will be so close to pretty little Tybee Island when we visit Savannah, we must spend a couple days there.
I'm not sure which of the exquisite little beach houses we will be in yet, but Mermaid Cottages is going to provide us with a perfect little abode. After staying on Tybee Island for a week last summer, I know that every restaurant is better than the last, but I can't wait to share The Crab Shack and AJ's Dockside Restaurant with my husband.There will be lots of eating and lots of walking on the beach and possibly some naps. Possibly lots of naps.
Then we head to Savannah. For a while, that was the whole trip. We were headed home after Savannah. Then, I was asked to visit The Beach House, a Holiday Inn Resort property in Hilton Head and Hilton Head is really very close to Savannah and, really, they had me at beach. So we added on a couple of days.
THEN Tom mentioned that he would actually kind of sort of like to visit Fort Sumter. Which is in Charleston, South Carolina. Not far at all, really. And the Charleston folks were so kind and gave me a press pass for tours and all kinds of things in Charleston that look oh, so interesting so how could we possibly not stay a few days?
I don't actually know where we are staying in Charleston yet but I learned from our road trip around Arizona that those things tend to just work themselves out. We haven't had to sleep in the car yet. Being the anal, compulsive, trip planner that I am, I used to want to have every single detail worked out before we left home. I'm becoming more casual about that kind of thing. We have our passports? We have our credit card? We are good to go.
So. Another trip. I'm still working on posts from Arizona and our beach trip to Navarre Beach and I just got a gig writing for these people and I have so much information about trips and travel and resorts and restaurants filling up my brain and I should probably think about doing some packing and you would think I would be overwhelmed.
But not a bit.
I love every second of it.
Anyone been to Asheville, North Carolina; Savannah, Georgia; Tybee Island, Georgia; Hilton Head Island, South Carolina; or Charleston, South Carolina? Any travel tips?
Pin It