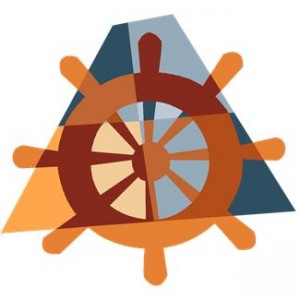 I'm just going to be honest and tell you that I would not have one, single photo for this post if it was up to me because I spent the entire time with my white-knuckled fingers clutching either the seat or, as we pitched forward, the railings. Luckily, my husband Tom has no problem with rough water and spent the entire trip with one foot braced on the side of the boat, clicking away with his camera.
This is precisely why I take him along on trips.
That and the fact that he likes great food just as much as I do and has no problem spending a great deal of time trying to determine just which is the best possible cannoli in Little Italy, New York.
A worthy quest.
I'm also going to be honest and tell you that, prior to this visit, I had never even heard of the Bay of Fundy or even of Saint John. I vaguely knew that New Brunswick was in Canada.
That was it.
So I was interested to find that this was one of the ports to which the Norwegian Jewel would be conveying us.
Often, I am amazed at my lack of knowledge when I start planning a trip. As a former librarian and avid reader, I thought I knew a lot of stuff but apparently I don't know much at all. As evidenced by the fact that my husband constantly beats me at "Words with Friends" even though I smugly started playing with him thinking I would be the constant winner.
I'm lucky to win one game out of ten.
Luckily for two novice visitors to Saint John, Tourism Saint John was wonderful about providing not only information but a tour guide in the lovely and personal Marcy Loeman. She met us at the cruise terminal and spent a good part of the day helping us to appreciate the charming town of Saint John and even fed us a lovely fish and chips lunch right by the water. I'll be writing more about Saint John but I want to tell you about the Bay of Fundy because it was really fabulous even though I was a little white-knuckled when we actually reached the rapids.
After visiting beaches all over the world and observing low and high tides of a few feet, I was astonished to learn that The Bay of Fundy has the highest tides in the world. We didn't really experience whitewater, but a Reversing Rapids, which is a unique phenomenon caused by the tremendous tide.  The tide is influences by the shape of the bay and the phases of the moon.
At low tide the St. John River empties into the bay through a narrow rocky gorge, then near Fallsview Park, an underwater ledge, 36′ below, causes a boiling series of rapids and whirlpools which are quite an adventure to traverse.  The rising ocean tide slows the river current to a stop as they meet and for 20 minutes a rest period called low slack tide allows boats to navigate the Falls.  Once the tide is higher than the river, the reversal of the current occurs and continues until high tide.  The water rises up to 14 1/2 feet above sea level in the gorge. Then the tide slowly descends but still flows inland until it is at river level again (high slack).  After a 20 minute rest, the river resumes its natural flow and the tide drops away to low tide revealing the rapids and whirlpools again.
This was the phenomenon we were about to see. We made our way down to a floating dock which was rolling and pitching so much that it gave us our first taste of what our boat trip was going to be like.  We clambered aboard with Marcy and met our young Captain who regaled us for the entire trip with stories about his life as a lobster fisherman. Raised in a family of lobster fishermen, he had never known any other life and it was obvious from his descriptions that he loved this wild, rugged life.
We headed out  on the river and all I could think was how supremely unpleasant it would be to end up in that black, icy-looking water. But our young captain seemed to handle the boat effortlessly although he made me nervous when he turned around and launched into long stories without looking forward at all, his hand carelessly resting on the wheel.  Pretty soon I relaxed and just enjoyed the trip and the stories as he really seemed to know what he was doing.
He told us stories about the local fishing industry, how it was comprised of family-owned businesses handed down for years and years. And how the economy and changes in the world have forced many of those families into other businesses. The river was lined with dilapidated, abandoned fishing shacks.
Notice the high door on the shack so they can unload the boats during high tide.
We slipped right past our cozy home away from home.
And saw a seal poke his head up out of the water and skim by.
We never would have seen him, but our captain slowed the boat and pointed out a bald eagle that nests right by the river.
 All the leaves had not yet turned colors for fall, but there were enough to make for a scenic trip.
Soon, we were at the confluence of the river and the bay at high tide where the the waters meet and create a roiling whirlpool of white water and green waves. The Reversing Rapids.
We were not the only ones traversing the rough water; there are also jet boats that provide rides through the water. They looked exhilarating, slightly terrifying and like you would get very, very wet. I much preferred out quiet little boat.
We also saw people who were way more adventurous than us who were zip lining. You can get more information about this here.
Neither the jet boat or the zip line appealed to us but everyone should do what makes them happy when they travel. Like hunting for the perfect cannoli in Little Italy. We enjoyed our calm and uneventful cruise back to the harbor where we all agreed that it was just about time for lunch. And lunch is what made us very happy. Or pretty much any meal, actually.
As I say, each to his own.
More about the rest of our day in Saint John soon, so stay tuned.
Full disclosure: Our day in Saint John was sponsored by Tourism Saint John, but, as always, I will share my honest opinion about any travel experiences I have.