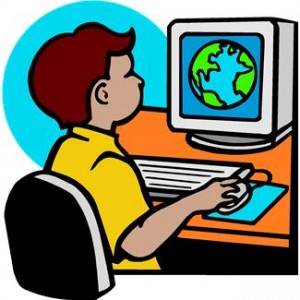 With resignation and love, I cleaned off the front of my iPad with my sleeve. My 6-year old grandson had just stopped by for a visit and one of his favorite things is playing on my iPad. Consequently, it's covered with fingerprints and unidentifiable substances when he leaves.
He had no problem mastering the swipe across the screen the first time he picked it up and might just possibly be better at navigating Netflix than I am. I know for a fact that he is better at Angry Birds, since I'm not even sure what those frakin' birds are angry about.
The iPad is a master baby-sitter as well as a wonderful educational tool and he spent hours happily watching movies with the headphones on at our beach house in Tybee Island this summer. Made things fabulously easy for all the adults, since he woke up way earlier than we wanted to even think about rising.
I have dozens of apps downloaded for him on my iPad but there are a few that he loves and I thought might come in handy for those of you with kids + iPads, especially if you are traveling with both. Check these out and share in the comments if you have others your kids love.
1. Netflix. Netflix has gotten some bad press lately and has been rapidly backpedaling on recent decisions, trying to get back the thousands of customers they alienated, but I don't care about all that because I adore Netflix on the iPad. The app is free and, once you log in, you pretty much stay logged in so it's really easy for a kid to get to the things they want to watch. My grandson is really into Power Rangers lately and the nicest things about this app is that, once you watch one of the episodes in a series, the series link stays on the screen so he can easily just choose the next episode. There's also tons of kids movies on there that can keep him entertained for hours. Just make sure you are viewing Netflix (or any movies) on wi-fi because it can really eat up your 3G.
2. Cake Doodle. Angry Birds may have its fans but Cake Doodle is seriously, seriously addicting. I knew this when my sister-in-law and I were playing Cake Doodle in Florida – and there were no kids on vacation with us! For 99 cents, this app provides tons of entertainment for kids and adults. Choose your cake, mix it up (shaking the iPad to empty the vanilla, etc. or break the eggs), bake it (the oven timer goes off!) and then decorate it. I think the decorating part is where it becomes addictive for adults because it's just so much fun. My sister-in-law and I knew we were friends for life when we secretly made cakes, showed them to each other – and had made virtually identical cakes! There's actually a new Cookie Doodle app that I downloaded but haven't had time to play with to show my grandson so he can play with it. Here's a video so you can fully appreciate the fabulousness of this app.

3. My Underwear. Some of the most popular books at my elementary school library were the Captain Underpants books by Dav Pilkey, partly because kids just think underwear is the most hilarious thing ever. Just say the word "underwear" and they will crack up. So this app is really a blast. You can color underwear and there are several games as well, including an underwear match game that my grandson loves. Only 99 cents.
4. PlayTime Theater. This one is pricier than the others, but still only $2.99 and we love it. You create an entire vignette with a variety of props, some of which include sound effects, then you can record yourself telling a story and watch the entire play with narration. This one really needs a video so you can appreciate how cool it is and all the things you can do with it.
5. Cut the Rope. I love this game because it requires a lot of strategy and planning to figure out how to get the rope cut at just the right point. The object is to get the candy or whatever into the mouth of…whatever that thing is…but it's a lot harder than it sounds. It gets harder and harder and, for 99 cents, is definitely worth the money.
I use my iPad every single day and it has become invaluable when I travel, as I talked about in this post, but I am delighted that he is so enthralled with it as well. I haven't even mentioned the math and reading games, the books, the drawing activities, the…well, it's just incredible. I stumbled on this video called "50 things to do with Apple iPad" and that's just a fraction of the things you can do with it. It's truly the most innovative advance in technology in recent years.
Now. I think I'll go make a cake.
A virtual one, of course.
Much less mess.