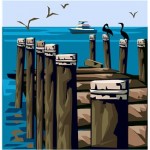 I was in a panic. All of my good intentions to carry my Bonine everywhere with me, no matter what, on every trip, had ceased to be important after our cruise ship docked in Vancouver and I figured I wasn't going to need it again until we flew home.
Only I did need it.
We were setting out on a Sunset Dinner Cruise with Harbour Cruises. On the water! With no seasickness medicine! This was not a good thing for me.
I checked with the Harbour Cruise office but they had none and warned that I might  not make it back in time if I tried to make a dash to a local drug store. So, with assurances from my husband that the water looked as smooth as a farm pond, I would be fine, fine, fine, not to worry, I  mounted the small gangway up to the large and luxurious MVP Constitution, Vancouver's only authentic paddlewheeler.
And I was fine.
The water in the Vancouver harbor was, indeed, as smooth as a farm pond and I never felt the slightest quiver from my motion-sickness prone tummy.
Harbour Cruises offers a variety of cruises, including sightseeing tours as well as luncheon and dinner cruises on the harbor. If we had time, I would have taken the sightseeing cruise of Indian Arm another day because although the dinner cruise was lovely, we didn't get to see much except the Vancouver harbor. I chose the sunset dinner cruise because I thought it would be fun to have a nice, relaxing meal as we cruised around, watching the sunset. And it was quite, quite lovely. Here's a video clip to give you an idea.
We stepped aboard and into a beautiful dining room, looking very fancy with white tablecloths, and found a table near the windows. There were no bad seats on the whole deck, with the huge windows overlooking the water, and every seat had a view of the sunset.
Once everyone had come aboard, the ship glided out of her berth and began the cruise around the harbor. Wait staff came around and asked about drinks and one warning – when I didn't care for the iced tea and ordered a Diet Coke, I was chagrined later to realize that we would be charged for it. There was also wine, beer and mixed drinks from the bar, if anyone cared to purchase one of these. We cruised along quite contentedly for a while, enjoying the views of the city and then it was announced that the buffet dinner was ready.
We sauntered along to the above deck and filled our plates with a wonderful meal. During dinner, we even had live music from some local musicians who were quite good.
We cruised by Canada Place and the gorgeous Stanley Park, then the sun began to set and the sky filled with golden, rose and amber light.
I was surprised and delighted when the captain carefully turned the boat first one way, then the other so everyone onboard could appreciate the lovely spectacle.
After the sun set, we just relaxed, finished our dinners and enjoyed the twinkling lights of Vancouver reflecting on the dark water. Soon, they set up a wonderful dessert buffet right by the bar so we didn't even have to trek up the stairs to enjoy it! We tried several different things – of course we did – and then just sat and enjoyed the peace and quiet of the dark harbor and the city lights.
All too soon, it was time to head back to our berth and embark, all of us setting off to different locations for the night.  It has been a wonderful, quiet and peaceful experience. With great chocolate cake on the dessert buffet.
What more can you ask?
Full disclosure: Harbour Cruises provided us with the dinner cruise, but, as always, I will share my honest opinion about any travel experiences I have.