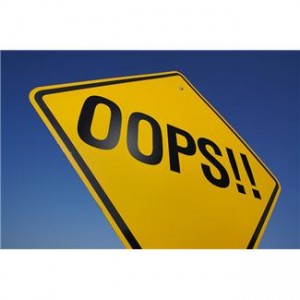 We waited as the cab driver unloaded our suitcases, then I asked our friendly and pleasant driver how much we owed him. We had just been driven from the Buffalo airport to Niagara Falls – a trip that took approximately 20 minutes. I had noticed when we got in that the meter was not set but I was not concerned. I knew that there was often a set fare from the airport to hotels and assumed it would be about $30, maybe even a little more but surely not much more. I had already researched cab fare from La Guardia to our hotel in New York in a few days and it was going to be about $30 so this should be roughly the same. Right?
Um.
Wrong.
So wrong in fact that we both almost passed out when the Buffalo cab driver told us the fare was $70. I was taken aback but paid him – what can you do? – however, I did call the cab company who politely informed me that this was the correct amount.
Ouch. What a rookie mistake! I do an incredible amount of research for our trips and couldn't believe that I had not researched this. Not only that, we later found that we could take the bus to the airport for just a few bucks. I won't ever again get into a cab without doing my research first – and asking how much it will be, just to confirm.
After checking in and strolling around the town, we had a quick lunch, then headed back to our hotel for a little relaxation before exploring more. We knew what street our hotel was located on so it was a piece of cake to get back. Right?
Wrong.
It wasn't until much later that we realized we had simply turned the wrong way on the correct street and our hotel was only about a block from where we had lunch. Stubbornly and stupidly, we kept walking. And walking. And walking. We even used the maps app on our iPhones which showed the time of travel as getting longer and longer but we justified this by thinking the road would eventually curve back the other way and we would get back to the water and back to the hotel. In retrospect, I can't believe how ridiculous this sounds. But we had gone so far and we were on the right road and we were determined that we were not going to turn back…yeah. It sounds ridiculous now. Eventually, we gave in, turned around and ended up right at the hotel which is when we realized how close it was to the restaurant.
I'll never ignore that maps app again. When it says we are getting further and further away from our destination, we'll turn around.
We knew where we were going when we stayed at a B & B in Seattle a few years ago, but it didn't help us because we were incredibly far from everyplace we wanted to go.  When I booked the stay, I could see that the B & B was not in town but was close to bus stops and we could always grab a cab which would surely be reasonably priced, right?
Wrong.
The buses were great but we weren't comfortable using them late at night. The cabs were reasonably priced if you weren't going far but we were going very far. We had booked a dinner train experience way on the other side of Seattle and we ended up paying way more for the cab ride than we did for dinner. I did learn from that experience to carefully research where our hotel or B & B was located in relation to what we planned to do.
I was very careful about our stay in New York City – I knew exactly how much the cab would be from the airport, how close we were to our planned activities and how much it would cost to get around town. Nothing could go wrong with transportation, right?
Wrong.
The first day, when we asked at the front desk about catching a cab, they told us where to go and we did just as they said but had some difficulty getting a cab to stop – all were off duty or had passengers – until we happened upon a gas station where cabs were just waiting for passengers. No problem. That night, when we were feeling a little trepidation about hailing cabs when we had reservations and theater tickets, the front desk receptionist informed us that they could call a car service and it would only be a few dollars more. How great! The car came right to the front door, drove us right to the restaurant and was only a few dollars more than a cab ride. Perfect. No mistakes there.
Our mistake came when we exited the theater and walked to a main street to try to hail a cab. Almost instantly, a shiny black car pulled over and the driver smiled and said "Need a ride"? Because we had already taken a car earlier in the evening, we automatically got in and he pulled away from the curb. Almost immediately, I started thinking that this was not a good idea.
The driver had no license or information about himself in a placard hanging over the seat as the other driver had on display. We had not asked about a price so we had no idea how much he would charge. And we did not know our way around the city enough to know if he was taking us the long way or was just taking us to some back alley where he would mug us, take our money and our passports and possibly leave our broken and bleeding bodies for some passerby to find. Yes, my imagination was working overtime.
Luckily, he took us quickly and efficiently to our hotel. As we entered the neighborhood and I could see that we were going to get safely back, I had a gut feeling that he would try to overcharge us for the ride. I took out a twenty dollar bill – what we had paid the other driver – and determined that this was what he would get, no matter what he said. So, when he told us the ride would cost double what we had paid the other driver, I said "No, that's too much", handed him the twenty and we got out. I might not have been quite so courageous if we had not been right at the front door of the hotel. We left him blustering about what a long drive it was and darted into the hotel. Whew.
I thought I would have a lot more mistakes to share with you, but now that I look over these, I realize they all had to with transportation. I'm very good about researching where we will stay and what we will do but apparently not so good with researching the transportation part of our trips! The good thing is that we have learned something with each of the mistakes we have made and we won't do them again or will change the way we do them.
We might make mistakes, but we learn from them. And that's what is really important.
What about you? Travel mistakes?