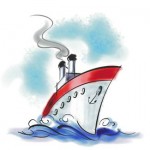 OK.
I'm just a teeny bit embarrassed to tell you that I had mashed potatoes again last night. On a dinner plate.
In my defense, I ordered the gratin potatoes, thinking I would try something different and yum gratin potatoes all cheesy and but no. Not only were they not especially good but Tom ordered the mashed potatoes and when I took a bite of his, they were just as good as the night before. So I asked if they could bring me more.
And seriously.
This is what I love about cruising on the Norwegian Jewel. Without a blink of an eye or a judgmental look or a what the heck is wrong with the gratin potatoes, lady? they quickly brought me a plate of delicious mashed potatoes.
And then made sure that it was OK and I didn't require anything else.
I also must admit that I don't have a picture of my quite fabulous prime rib dinner with mashed potatoes on the side because I um…got a little too excited and ate it before I took a picture of it.
However.
I did remember to take a picture of the crab cakes appetizer, which ranks right up there with the mashed potatoes and I am seriously going back to Cagney's just so I can eat more crab cakes. Many, many more. Maybe with a side of mashed potatoes.
What? Mashed potatoes can totally be an appetizer.
I'm just gonna add that I am a teeny bit of a crab cake snob because I only like them if they have big chunks of crab and not much breading and these? Big, big, BIG chunks of crab.
Also, there was dessert. Some sort of espresso brownie with macadamia nut ice cream which was quite, quite delicious.
Why, yes, yes, that is chocolate ice cream on the side. Because I had that for lunch at Cagney's and it was quite possibly the best chocolate ice cream I have ever eaten in my life. It was not just chocolate but dark chocolate and I am here to tell you that is is heavenly. So I got it on the side.
Can so get ice cream as a side.
But I would not want you to think that we are spending all of our time eating because there are actual ports that the ships stops at and we are making time in our busy eating schedule to go on land.
We had been a little too casual, what with planning for Niagara Falls and New York City and all the other ports, so we had nothing planned for little Sydney, Nova Scotia. We just basically strolled around the lovely little town, taking pictures and enjoying the scenery until it was time for lunch. Because, you know. Food.
We did, however, stop in a local drugstore to pick up a couple things we had neglected to pack and found, to our chagrin, that we had to wait until 12:00 for the store to open because Monday, October 10 is Thanksgiving in Canada. Are you as taken aback as we were? Seriously, Thanksgiving in October?
As Tom said, that means they have two holidays in October. He said this with honest amazement. Which cracked me up to no end.
We also went into a local church that was having a craft fair and I'm pretty sure that they must have planned their craft fair to coincide with our arrival as they had big signs all over town welcoming us to it.
I guess there's normally not a whole lot going on in Sydney, Nova Scotia.
I actually bought a fiddle Christmas tree ornament to commemorate our visit to Sydney because did you know (I would wager a good deal that you didn't) that Sydney is the home of the world's largest violin?
I am absolutely serious.
I have photographic evidence.
So, that was our day.
A giant fiddle and more fabulous mashed potatoes on the Norwegian Jewel.
Really.
Who could possibly ask for more?
Full disclosure: Norwegian Cruise Lines provided us with a media rate for our cruise, but, as always, I will share my honest opinion about any travel experiences I have.