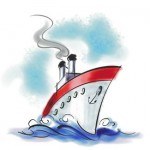 We are cruising along on a navy blue sea with sparkles of gold on the tips of the waves which look like pirates have scattered their treasured doubloons on the water. The last time we left New York on our way to Bermuda, the water was so rough that the pool water was splashing up in huge waves, we staggered down the halls holding onto the walls and my green-faced husband experienced seasickness for the very first time.
But we are heading in another direction this time and the sea is being very obliging to those of us whose inner ears have a very delicate system of checks and balances. I am carefully taking seasickness medicine every morning as I am the one who gets sick at the very thought of a boat. No problem if I just take the medicine though. Anyone who has never cruised because of seasickness, take note. It's not a problem.
The Norwegian Jewel pleases us more with each passing hour. We sank into our comfortable bed and slipped into a blissful sleep, lulled by the gentle motion of the huge ship plowing its way through the barely moving ocean on its way to our first port in Sydney, Nova Scotia. We wound our clocks forward an hour before bed, as instructed, and lost an hour but we didn't care. We slept through whatever time change went on out in the world. Our room is cool and dark and our sleep was deep and undisturbed. We could have slept on but breakfast awaited.
And we are not ones to miss a meal.
Besides.
We knew there would be an omelet bar. One of our favorite things about cruising.
The Jewel did not disappoint. A fabulous omelet bar awaited us, along with every other breakfast choice you can imagine – fresh fruit, freshly baked pastries, waffles – you name it, they probably have it. And everything was fresh and hot and perfectly, absolutely delicious.
But wait.
I'm jumping ahead a meal.
I forgot to tell you about dinner at the Tsar's Palace Restaurant.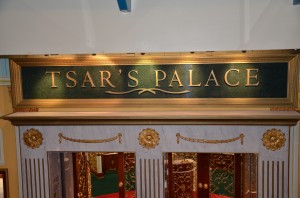 We went down to dinner about 6:45 and realized when we saw the gorgeous red sky that we should have gone down just a few minutes earlier to see the sunset. We'll do that tonight. We could not have chosen a better table if they had swept their arm around the room and said choose your table, any table in the whole place – because we would have picked that one. Placed right by the huge windows overlooking the sea, we had a view of the fading sunset and the ocean roiled up by our passage.
Appetizers, entree, dessert – we had it all. And it was all delightful. Quite, quite delightful.
My salmon was tender and juicy and had some sort of creamy butter sauce that I could have eaten with a spoon.
And when you put chocolate and raspberry together, I am truly a happy, happy person.
Not much for night life, we went back to the room and proceeded to write on the computer or watch a movie, depending on which half of the couple you might be. I'm amazed at the fast and efficient wifi we have in our stateroom. In years past, we had to go to the Internet Cafe area and sit in a hallway to pick up a connection. Now, you can sit in your stateroom and do the same thing. Technology – ain't it amazing?
So. We have eaten and slept and eaten again and now I sit writing as I look through the window and see the gold-strewn sea.
We will relax and read and nap and then eat and see a show.
Life onboard the Norwegian Jewel.
Pretty. Darn. Sweet.
Full disclosure: Norwegian Cruise Lines provided us with a media rate for our cruise, but, as always, I will share my honest opinion about any travel experiences I have.