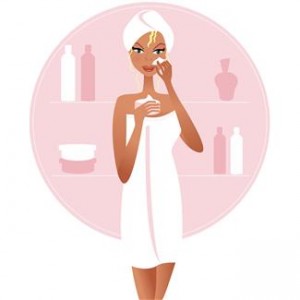 I now know how a turkey feels.
Also a burrito.
A turkey burrito.
Let me backtrack.
We just spent a completely and totally fabulous day at the Silver Shells Resort and Spa getting pampered within an inch of our lives. And we loved every second of it.
My SIL had a great massage but what I really want to tell you about is my burrito experience. I have been to a number of spas and had lots of treatments, massages, mani/pedis, whatever – but this was the most unique, interesting and ultimately fabulous experience I have ever had.
We were welcomed to the spa in the beautiful reception area where we filled out the requisite paperwork.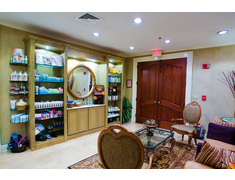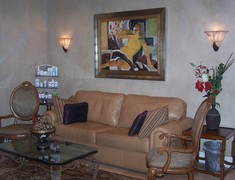 Then we were ushered back to a locker room area where we were given robes and comfy plastic shoes as well as a locker. We dumped our clothes and headed out to the lovely pool area to relax before our treatments. Someone from the staff kindly brought us towels and icy cold goblets of lemon water. We felt truly pampered.
But this was just the beginning.
Finally, it was time for our treatments so we went our separate ways and Jason, my masseuse, led me to a room with the craziest contraption I had ever seen.
Jason told me to clamber up on the crazy bathtub looking thing and drape myself with two towels. He diplomatically left the room as I climbed up and festooned myself with towels. Then he returned and the real fun began. It was the wackiest and most wonderful experience I have ever had in a spa and, at the end, my skin was as smooth as a newborn baby's butt.
First, he proceeded to scrub me all over in between the towels with some sort of blue salty stuff that was rough but actually felt great. I didn't realize it was blue until I was rinsing off the residue at the end and I realized that, at the time, I must have looked like a giant Smurf in a bathtub.
I only wish I had a picture.
Next, he took some heated oil and rubbed it all over the salty residue. It was at this point that I began to feel much like a Thanksgiving turkey. A pampered, completely relaxed turkey. With silky soft skin.
Then, Jason took the thin aluminum foil I was lying on and began to wrap me up in it. I am so not kidding.
I was a burrito. A turkey burrito. With silky soft skin.
He gently laid towels over top of the aluminum foil so I would not crisp – just kidding – I guess it was to hold in the heat and help me relax. And then he left me alone for a few minutes so he could get the lettuce and tomatoes.
Just kidding. Again.
After I had marinated long enough, he came back and swung the contraption over the tub above me and proceeded to rinse me off with warm water. It felt great.
He left me alone so I could rinse off and it was then that I had the smurf experience. It was also then that I ran my hand down my arm and realized my skin had not been this soft since I left the womb.
You might think this was the highlight of our day and it's true that it was one of the highlights. But then we went out to the pool where they brought us lovely, lovely fresh and delicious chef salads with ice cold lemon water and we ate them in the shade by the pool.
And marveled at the fabulousness that was us.
So, I guess my final message to you is that, if you are ever in Destin you should absolutely go to the Silver Shells Resort and Spa.
Just tell them you want the burrito treatment.
You will be so glad you did.
(When we were in the relaxation room in our robes, completely mellowed out from our treatments, there was a little girl in there waiting for her mom. She was thrilled with her mani/pedi which had resulted in every single nail being painted a different, equally bright color. She showed them off to us then asked if we had enjoyed our massages. When we told her they were perfect, she said "Did you have cucumber slices on your eyes"? When we admitted that we had not had cucumber slices on our eyes, she nodded her little head wisely and said "If you had cucumber slices on your eyes, then it would have been really perfect". Well, DANG.)
In all seriousness, you want the Silver Shells Signature Treatment. Call right now.
Full disclosure: Silver Shells Spa provided us with treatments,  but as always, I will share my honest opinion about any travel experiences I have.