"The coldest winter I ever saw was the summer I spent in San Francisco."  – Mark Twain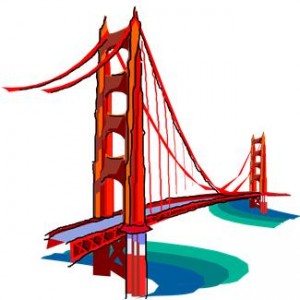 I stepped out onto the balcony of our fabulous cruise ship suite on the Disney Wonder that had proven to be not quite up to our expectations, just to confirm what I had checked on my computer. It was true. The San Francisco weather was beautiful, warm and sunny.  I stepped back inside and looked at the Cuddle Duds I had laid out on my bed, along with jeans, a warm sweater and jacket. And then ruefully put away the silky long underwear I had carefully packed.
The last time my husband and I had been in San Francisco at precisely the same time of year, I had just about frozen off my tookus. I had come prepared for cool weather but the icy wind that whipped around my head freezing my ears and nose on the ferry ride over to Alcatraz did not meet the definition of cool. Arctic, maybe. Frigid, definitely.
So, this time, I was ready. But San Francisco, one of the most contrary cities in the world when it comes to weather, had changed its mind. It decided to put out a lovely, lovely spring day like it thought it was a delicate Southern city filled with magnolia trees and Spanish moss. I decided to stop being annoyed with San Francisco and just enjoy one of our favorite cities in the world.
The last time we had visited, on a stopover on our way to Hawaii, we had explored on our own. This time, we decided to take a tour to find out exactly what we had been seeing. Tower Tours kindly offered us their Grand City Tour, but we wanted to see Muir Woods as well. We only had one day – the other day was devoted to a culinary tour (more about that later but, um, YUM). No problem, they assured us. We could do the city tour in the morning, take a lunch break, and do Muir Woods in the afternoon. We were sold.
And can I just add how shocked I was when the apes in the new Planet of the Apes movie crossed the Golden Gate Bridge and were in Muir Woods? It was one of those times (you know those times) when you are all "I have BEEN THERE"!
So, San Francisco. And touring it. We easily walked to the Tower Tours office on Beach Street from the cruise ship docked at Fisherman's Wharf to meet our tour bus, but they will also pick you up if you are staying at a hotel in San Francisco. We clambered onto our comfortable bus and headed out into the city. After driving around a bit with the tour guide commenting and narrating, we headed across the Golden Gate Bridge where we disembarked for some photo ops. Strangely enough, we actually crossed the Golden Gate Bridge twice in one day as we went back that way in the afternoon to see Muir Woods.
I often have the impression that I am in a middle of a movie when I travel and I definitely felt that as we crossed the Golden Gate Bridge, then took pictures of it. Strange feeling. But nice.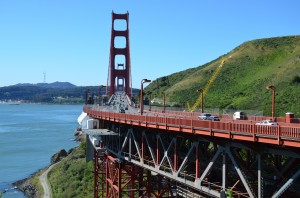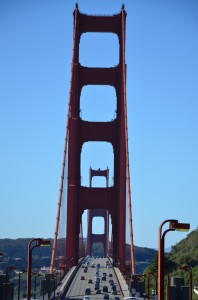 From the bridge, we headed back into town and to the Japanese Tea Garden in Golden Gate Park which was truly one of the loveliest and most serene places I have ever been. When you go to San Francisco, you must go here. Beautifully designed and laid out, it is filled with gorgeous flowers (which are probably even more gorgeous in the summer), beautiful plants and lovely Japanese-style buildings.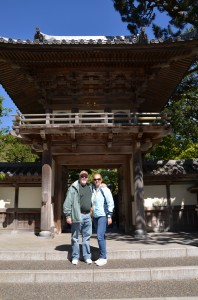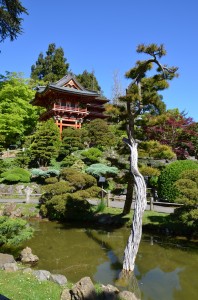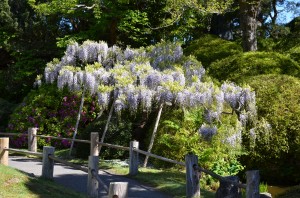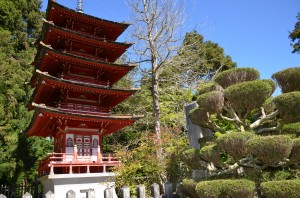 After the tea garden, we drove to Nob Hill, one of San Francisco's original neighborhoods and a very lovely and affluent area. Then around town a little more and finally up to a lookout point where we could see the lovely city by the bay spread out below us.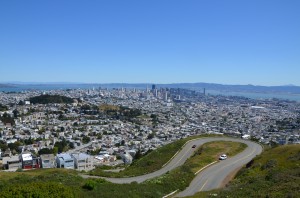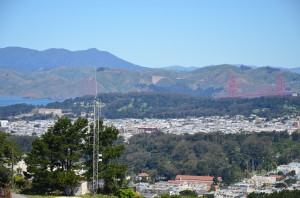 After grabbing a quick bite of lunch, we spent the afternoon at Muir Woods and then it was time to head back to our home away from home on the Disney Wonder. We had dinner waiting for us on the ship but we couldn't leave San Francisco without one more dinner at our favorite place to eat, The Blue Mermaid. Located in the Argonaut Hotel, where we stayed the last time we visited, the Blue Mermaid specializes in chowder and they have the best clam or corn chowder you can find at Fisherman's Wharf.  It's a little bit of a walk since it's located at the end of the wharf, but it's worth it. And it's located right near the Ghiradelli Square, so you can stop in the store and pick up a bag of fresh chocolates for dessert.
Munching on chocolates, sauntering back down Fisherman's Wharf to our ship, we just allowed San Francisco to wash over us. The cool breeze off the bay, the sound of street musicians tuning up, the smell of fresh seafood, popcorn and cookies baking, and the sight of the famous San Francisco skyline all combined to create a wonderful evening.
The perfect ending to a perfect day.
Full disclosure: Tower Tours provided us with tours,  but as always, I will share my honest opinion about any travel experiences I have.