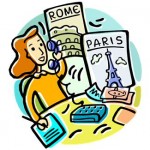 Pyramids of school supplies are starting to appear everywhere I go and many of my teacher friends are already back at work. And I have not one, teeny tiny regret that one of those busy teachers is not me. Two years ago, about this time, I walked out of my school librarian job of twenty years without a backward look (OK, maybe one – twenty years is a long time) to begin a new career as a travel writer.
In reality, I had no idea what I was doing. I loved to write. I loved to travel. That was about the extent of my plans for my future career. I had been hired by a travel agency but there was no money involved; just the vague promise of possibly free travel.
I was telling someone the other day that I had been to Ireland last year and then I stopped myself and realized that the Ireland trip was actually two years ago. I have traveled so much in the last two years that I am starting to mix up my trips. So, I started organizing them in my head and thought you might be mildly interested to know what I have been doing, where I have been going, and how my writing plans have evolved.
Heartbreakingly, a great deal of what I wrote for most of those two years was carelessly deleted when the travel agency and I parted ways and they casually deleted the entire blog. If I have one piece of advice for you it is to back up every single thing you write. But I have some of it, since I was writing for magazines as well.
The first trip I went on actually took place before I officially retired; I had to rearrange my schedule to work an extra week after I returned in the summer so I could go to Cancun in June, 2009 on a Fam trip. The first Fam trip I had ever been on (I didn't even know the definition of Fam trip until they explained it), it included a bunch of very nice and friendly travel agents from the same agency and was sponsored by Classic Vacations.  As an introduction to Fam trips, it was wonderful because it was low-key and we actually had some down time to enjoy the location – I soon learned those are not common on Fam trips. In fact, I will never, ever go on another Fam trip. But it is a great way to get started and to make some contacts and I do recommend them for newbie travel writers.
We visited a variety of resorts in Cancun, then drove down to the coast to Riviera Maya. It was an eye-opening trip for me in many ways. I had never been to Mexico, never traveled internationally and certainly never traveled that far all by myself. But the beaches of Cancun and the Riviera Maya were gorgeous and I didn't have any travel problems at all. We visited some of the most beautiful resorts I have ever seen and you can actually read about one of them, Zoetry Paraiso de la Bonita HERE in one of my first travel columns for a magazine.
Next up, in August 2009, was a Fam trip with Vacation Express to Punta Cana, in the Dominican Republic. This was not technically a Fam trip, but a President's Club Retreat that I had been invited on but we managed to still visit a lot of resorts – so many that my feet were actually blistered. This was my first indication that Fam trips might not be the most fabulous things in the entire world.  I had actually been to Punta Cana several years before with my daughter and not much had changed – it was still a lovely, lovely place with beautiful beaches and incredible all-inclusive resorts. But I have not one piece of writing from that trip. All deleted.
The next trip, in October 2009, was one that I not could actually believe my husband and I were taking until we were there. In Ireland. The vice president of Brendan Vacations asked me if I would be interested in a trip to Ireland and, almost before he finished his sentence, I was agreeing. This trip was not quite as economical as the others – we had to pay for my husband and also pay our own airfare, but it was still an incredible deal. Here's an article about the trip (and my first cover story) and one about our stay at Dromoland Castle, still one of the most incredible experiences we have had.
Brendan Vacations was so pleased with the resulting publicity from the trip that they invited us on a trip to Hawaii. The Ireland trip really was a Fam trip but on the Hawaii trip we just went along as tourists on one of their two-week tours of the islands. I had always wanted to go to Hawaii so this was truly a dream come true. An escorted vacation with Brendan Vacations was the perfect way to see four of the islands and I really recommend it, especially if you have never been there.  I wrote an article about each of the islands, Oahu, Hawaii, Maui,  and Kauai. Everyone who travels to the Hawaiian islands has a favorite, but not me. I loved them all!
Because my husband is not a big fan of long flights, we stopped in San Francisco for a few days on our way to Hawaii and fell in love with the city. We revisited recently and I'll be writing all about that soon.
In a funny twist of fate, when we were in the planning stage of the Hawaii trip with Brendan in May/June, 2010, I got an offer of a Fam trip to Hawaii from Classic Vacations that was taking place in early May. Not two weeks before our planned trip to Hawaii. It was just crazy, but I couldn't pass it up because it was so incredibly cheap, so I went to Hawaii twice in two months. It was really strange going back with my husband after I had just been there – strange, but nice!
In September, 2010, some family members were going on an Alaskan cruise and my mom wanted to go but needed a little assistance, so she offered to pay my way. Twist my arm and I'll travel anywhere, anytime! I had already cruised to Alaska once with my husband but this was a different cruise line – NCL – and we were going to a few different ports. I took the opportunity to spend some time with the Juneau Convention and Visitor's Bureau for a tour of the city. This was the first time I contacted a tourism office and it would not be the last. It resulted in an article about Juneau and an invitation to return sometime – whenever I have a break in my travel schedule! I didn't write about the cruise line but will be writing about them in great detail after we cruise with them in the fall.
In November, 2010, we set out on yet another trip that, once again, we could not believe we were doing until we arrived. I was invited by AmaWaterways to go on their inaugural wine-tasting river cruises in Europe.  I didn't bother to tell them that neither of us liked wine, I just agreed eagerly and figured I could pretty much write about anything! It was our first trip to Europe and was just incredible in every way. We were serious ocean cruise lovers but were converted almost immediately into river cruisers by the convenience, the wonderful food, the service – everything! I won't link to all those articles, but they are the only ones I managed to scan before the old blog died. If you are interested, you can read about the whole trip if you go to my Published page and scroll down to the Europe articles. You can read more about it HERE and actually hear a radio interview with me about the trip.
One thing we did that worked very well was travel to Montreal, Canada for a few days, then take the much shorter (from Lexington, Kentucky it was a pretty long flight) hop over to Europe. It gave us a taste of Canada and made our flights much shorter. We loved the Auberge-Bonaparte Hotel, where we stayed, and really loved everything about Montreal.
In April, 2010, I took a Girlfriends Getaway cruise on the Carnival Liberty that was a complete and total blast. I wrote about our surprisingly roomy stateroom HERE.
Our next big trip was one that came out of our pocket (at least part of it). We had a credit with Disney for a trip to Disney World that had not worked out, so we decided to take a Disney cruise up the Pacific coast from LA to Vancouver in May, 2010. Since we were going to be in California, we decided to visit Vegas for the first time and, if you have been a regular reader, you know all about that experience. If not, you can read about them HERE. I have just started writing about the Disney cruise, so stay tuned.
In between writing on my travel blog and the two magazines for which I write travel columns, I have started branching out into other magazine and online writing.  I have been writing pretty regularly for " A Luxury Travel Blog", "The Vacation Gals", "TheSavvyGal.com", and was recently hired to write for "Travelhoppers".  I just heard from a new and interesting travel site called "See Jane Fly" that wants me to write for them. I also have articles coming out in "Senior Living Magazine" and "Nevada Magazine and have queries out to several others for which I have high hopes.
I'm learning that writing is a process and so is getting that writing published!
I just returned from a family vacation on Tybee Island, Georgia and Savannah and you'll be hearing about those wonderful destinations soon. I also just returned from a road trip with girlfriends to Memphis and Graceland, which should prove very interesting. After seeing the Elvis show, I decided it was only fitting that I see Graceland for the first time.
Our next big trip will be in October, 2011. Working with Norwegian Cruise Lines, I have scheduled a trip up the New England/Canada coast to see the gorgeous fall leaves. We embark from New York, so of course we have to add a few days there! And a possible stop in Niagara Falls is in the works as well.
I talked to AmaWaterways just the other night and it looks like a cruise from Paris to Barcelona is happening in the fall of 2012.
I need to figure out a way to get back to Vegas so I can take advantage of some of the restaurant meals that were offered that I simply didn't have time to fit in my schedule. A trip to eat my way around Vegas sounds pretty promising.
We really want to see Australia and New Zealand.
There's a whole lot of countries left to see in Europe.
In fact, there's still a whole lot of world to see.
Sometimes, I just marvel at the fact that in the last two years, I have walked on a white sand beach in Mexico, a light tan beach in Punta Cana, a black sand beach in Hawaii, white sand again in St. Thomas and dark tan sand on Tybee Island. I have seen the ocean crash on the rocks at the Cliffs of Moher in Ireland, walked through a castle in Germany, peered into a jail cell in Alcatraz, seen whales frolicking beside our cruise ship, and looked out over Paris from the Eiffel Tower.
Two years ago, I never dreamed I would be doing all those things.
But here's the real, true thing.
The one that keeps my fingers tapping away on the keyboard.
Who knows what might be next?