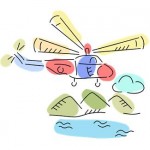 Seriously, you can't imagine how cool I felt typing "chopper" above. As if I actually had anything to do with piloting the chopper, other than attempting to climb into the pilot's lap when he veered a little too close to the canyon's walls.
Absolutely, without a doubt, the coolest thing we did the entire time we were in Vegas was taking a helicopter tour of the Grand Canyon with Papillon Grand Canyon Helicopters. This is the tour we did and we also added the Skywalk and river cruise. I recommend it totally.
When we first began planning our trip to Vegas, my husband and I both really wanted to work in a trip to the Grand Canyon. But, even though it is within driving distance (about 6 hours from Vegas), we had so many commitments and so little time, that it was just not going to happen. Until I talked to Papillon Grand Canyon Helicopters. And they said they could give us a little helicopter ride there – and it was only a 45-minute flight! We were thrilled. We had never been to the Grand Canyon and now we were going to fly over it, land and take a raft trip down the Colorado. Well, that was pretty nice but if only we could visit the Grand Canyon Skywalk too.
Wait.
We were going to do that too. Could life get any better? I didn't think so.
Luckily, since I get motion sick and am afraid of heights (can you think of a more appropriate person to take a helicopter ride?), we had already taken a helicopter trip over an active volcano when we were in Hawaii and I quickly got over any fear I might have about this fabulous mode of transportation. However, I did pop a Bonine since a helicopter can be pretty vertigo-inducing in a whoops we just dropped 50 feet sort of way.
Papillon picked us up right in front of our hotel, which is what they normally do, and transported us to the Boulder City airport, about 15 minutes from downtown Vegas. We checked in, watched a little safety video, sat waiting for our names to be called and spent the entire time amazed at the incredible variety of countries that were represented in that little airport. Each time they called a group of passengers up, they told what country they were from and, I'm going to just say right here that the United States was pretty poorly represented. Y'all need to get on over to the Grand Canyon!
Finally, they called our names and the names of a lovely family of four from New Zealand who were super-friendly which was a good thing because we spent the entire day together. It was also a good thing because four fit in the back of the helicopter and two in the front and this meant that we got to sit up front where my husband could take approximately 6,902 pictures through the windows. And they were all so good that I agonized over which ones to show you.
We climbed in and the helicopter lifted up as lightly as a butterfly and zoomed forward, where the pilot paused and looked both ways to make sure it was clear, then popped straight up in the air and I was extremely glad I had taken my Bonine.
We flew forward over Boulder City, which was originally built in 1931 to house the hundreds of workers who created the Hoover Dam and still exists as a lovely little town right outside Vegas.
One thing I noticed immediately was the area we were flying over reminded me of the area we had flown over in Hawaii. Our pilot informed us that this is because this area was also created by an ancient lava flow. Parts of Hawaii are formed by brand-new, hot lava but parts looked just like area of Nevada. I found this fascinating.
Ironically, in the middle of the desert, part of our safety briefing had included information about life vests and we were required to wear them when we were flying. This is because when Hoover Dam was build to dam up the Colorado River, this naturally resulted in some bodies of water forming. We would be flying over them and had to be prepared in case we had to ditch. A highly unlikely scenario.
This area has been experiencing a drought for several years and you can really tell this when you see the bodies of water near Hoover Dam.
Next, we flew over Hoover Dam and had a great view of the new bridge and road they built recently to help with the congestion on the original road over the bridge itself.
We flew over more brown and gray and tan desert landscape until, suddenly we saw a trail wending its way through the country. Our pilot told us it was one of the original Mormon wagon train trails. Can you imagine trying to make it through that desolate, rough country in a wagon train?
Next, our pilot decided to mess with us and told us that the huge cross we were going to see had, more than likely, been created by aliens to be seen from space. We were all really and he was all no, not really. Duh. It's actually an old practice landing strip used by WW II fighter pilots. No aliens, but still pretty cool.
We knew we were getting really close to our ultimate goal when we saw the Colorado River.
One more stomach-fluttering lift up and there it was. The Grand Canyon.
The generous irrigation of the Colorado River causes lush greenery to sprout all along the water's edge.
The sides of the canyon rose up on either side of us in incredible peaks and formations against the sky.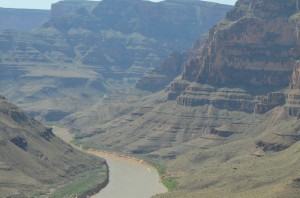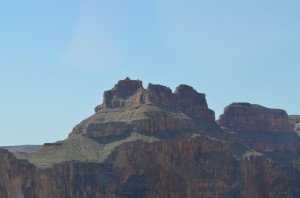 We have seen golden-red, hot lava pouring into the ocean and a gigantic glacier calving into the sea, but they were nothing compared to this incredible, incredible experience.
However.
Things only got better when we actually landed in the Grand Canyon.
But, you'll have to wait on that part of the story until my next post.
Gotcha.
OK, I'll be nice. Here's a video from Papillon about our experience. Yes, it was just that cool.
Full disclosure: Papillon Grand Canyon Helicopters provided us with a hosted tour,  but as always, I will share my honest opinion about any travel experiences I have.