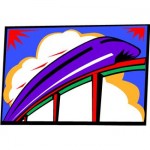 I sat down and slid off my sandal to check on why my bare foot was hurting and there it was – a blister. Waaay too much walking. We had walked from our fabulous and classy Paris Hotel all the way to the amazing and fascinating Luxor and I couldn't imagine walking all that way back. Then I remembered the tickets I had in my purse for the Las Vegas Monorail. Couldn't we ride it back home to Paris – or even to Caesar's Palace where I was supposed to do a site visit? Surely we could. But where was the station?
The Las Vegas Monorail may very well be the best-kept secret in Las Vegas. Cool, comfortable and with a state-of-the-art design, the Monorail runs quietly and efficiently behind the scenes at most of the major hotels on the strip. Check out this video and see if it doesn't make you want to find the nearest station.
I thought I had seen a monorail station as we passed by the MGM Grand Hotel and Casino and, sure enough, when we limped back that way, we found it. After wandering through the MGM Casino and following about 4,391 signs to the monorail, we finally located the station suspended high over Las Vegas Boulevard. I think there were actually much easier ways to find it if we had just thought to check our TWO iPHONES we were carrying for a monorail map!
There are 7 stops on the monorail route and the entire trip only takes about 15 minutes. Well, look. Here's a map of the route.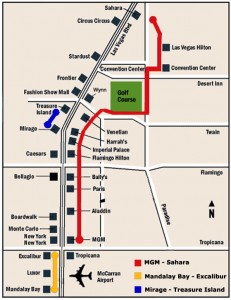 The monorail runs pretty much all the time and is the fastest (almost 50 miles an hour – compare that to the gridlock traffic on the strip), safest and cheapest way to get around.
7 a.m. to 2 a.m. Monday – Thursday
7 a.m. to 3 a.m. Friday – Sunday
365 days a year
You can get a three-day pass for only $28 which as much as you would pay for a couple of taxi rides or a few tips to the valet guys for bringing you your car and you can easily get tickets online or from the vending machines at every station. The tickets are actually good for a whole year, so hang on to it – you can use it the next time you to to Vegas!
Interestingly enough, this is the only privately owned public transportation system in the United States. It's wheelchair-friendly and kids under 5 are free. If you go HERE you can find some coupons and deals in Vegas from the Las Vegas Monorail.
I told my husband he could just get off at the Bally's station to get back to our Paris Hotel while I continued on to the Flamingo/Caesar's Palace stop but he was way too intimidated to do that on his own so he just rode along with me. Wimp. (she said affectionately)
I really wanted to ride it from one end of the strip to the other (once I actually remembered I had tickets) and just do some sight-seeing, but we ran out of time.
Oh, well.
This means I'll just have to go back to Vegas.
NO PROBLEM.
Full disclosure: the Las Vegas Monorail provided us with free tickets, but as always, I will share my honest opinion about any travel experiences I have.