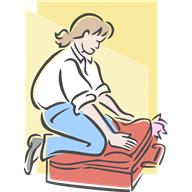 I haven't even taken the clothespins and plastic bags out of my suitcase. Clothespins to hold the curtains closed in a hotel room or hang up a wet bathing suit. Plastic bags for that wet bathing suit or stolen extra cookies off the buffet.
I'm learning.
There's no point in taking that stuff out because I'm packing for another trip two weeks after the first one. Just in time for my sunburn from the Caribbean to peel off, I'm heading to Las Vegas to get sunburned again, on the first leg of a two week journey.
I was marveling at how much travel I'm doing, at how I'm taking two fabulous trips so close together and that was just so unique when I remembered last year at this same time how I had been to Hawaii twice within three weeks.
This is becoming more and more commonplace, this jaunting, jet-setting, traveling life of mine. Hard to believe it's already been two years since my life changed.
Two years ago, I walked out of the school library where I had spent twenty years of my life wiping noses and tying shoes molding young minds so I could wait in airports and get sunburned on tropical beaches and freeze my ass off on a ferry while scribbling, scribbling, scribbling stories and love very minute of it.
I had to learn to switch my mind from another vacation?? to I'm a travel writer and I'll be traveling all the time. That took a while.
It happened with a visceral click when I was offered a trip very close to the time I would be returning from another trip. I was taken aback by the difficulties of taking two vacations so very close together – the packing and unpacking! the laundry! the planning! I just didn't think I could do it.
Vacations were meant to be taken about a year apart, maybe a week at a time, probably in the summer when school was out.
Right?
And then in the night when I was lying awake thinking how can I possibly pass up this opportunity…the click happened.
Wait.
Just wait.
This is your job now, remember? These are not vacations. This is your job.
I emailed the provider the next day.
I took the trip. And the other trip. And all the others that have come along.
It's tiring and overwhelming and a lot of responsibility and planning but when I take off in a plane or step into a hotel room and see a brand new city spread out beyond the window or sail away from shore, I realize how lucky, lucky, lucky I am.
I introduced myself on the phone as a journalist the other day.
Didn't even think about it; it just popped out.
Journalist. I like the sound of that.