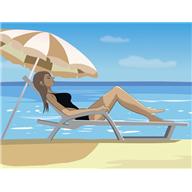 The Big Island. That's what you call Hawaii if you are in the know. We were not in the know before we went there but we are now. When people say "Hawaii", we turn up our noses and laugh disdainfully. How banal! So un-cosmopolitan, don't you know, my dear.
Mentally, of course. Because we were them just a very short time ago.
Same thing with South Beach in Miami Beach. Before I went, it was South Beach. After. It was SoBe. Because now I'm in the know. Or at least I like to think I am. As much as someone who has just spent a sum total of one day in SoBe can be considered in the know.
If you are heading to SoBe from another part of Miami, one of the cheapest and best ways to get there is on a city bus. The Miami buses are clean, air-conditioned and comfortable. They also run on time, all over the city and are very reasonably priced. We traveled from the airport to SoBe for $2 each way and a cab would have been $25 each way. Let's see. Spend $4 or $50? Hmm. No brainer choice. Especially when you consider how much shopping you can do with that money. Speaking of shopping.
The first place you should go is Lincoln Road.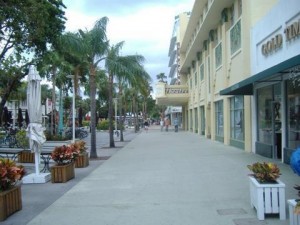 Located between 16th and 17th street (the bus will stop right in the shopping area – you can't miss it), this is SoBe's premiere shopping area. It's an open-air shopping center with tons of shops, restaurants, sidewalk cafes and bars. The area is closed to traffic and you can find everything from kitschy tourist junk to the latest designer fashions.
You know you want these in your living room.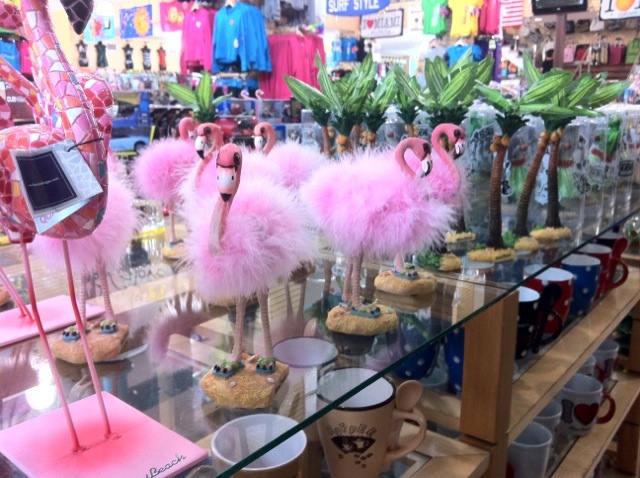 And one of these lamps.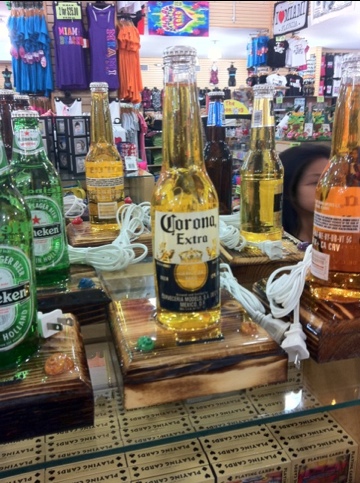 Yeah. Me either.
But there are a lot of great shops with fabulous clothes, shoes and jewelry. If you are a lover of the jewelry as I am, pop in a store called "So Good Jewelry ". It is a small shop absolutely packed with jewelry. I thought some of the prices were a trifle high for costume jewelry, but they did have a lot of things that were very reasonably priced, including a lovely little starfish necklace that made it home with me.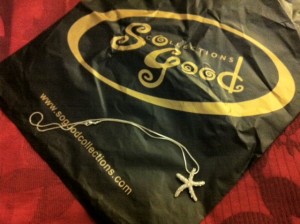 You can spend hours in all the shops at Lincoln Road but, at some point, you have to head to one of the beautiful beaches which are just a couple of blocks away. You have a variety of beaches to choose from where you can rent chairs or cabanas. We just pulled our (borrowed) hotel towels out of our tote bags and plunked ourselves down to admire the gorgeous shades of the water, as well as bikinis so tiny they could easily be categorized as dental floss.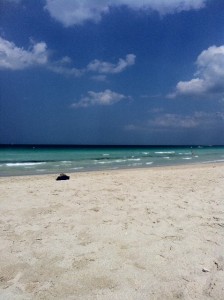 At some point, you are going to get a mite peckish and, believe me, this is not a problem in South Beach. Restaurants line the streets and you can choose culinary delights from just about every country in the world. We wanted a sidewalk cafe where we could have a leisurely meal and do some serious people watching, so we found Maxine's Bistro, which apparently was voted South Beach Group's favorite restaurant. Who knew? However, we should have suspected when I ordered some cheese and fruit and received this lovely platter.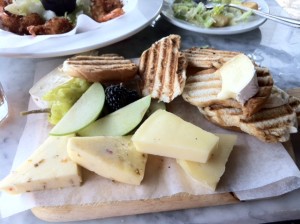 YUM.
The cheese was fresh, creamy and delicious and the apples and blackberries made the perfect accompaniment. I actually scarfed a couple of bites of the Brie before I realized I should probably take a picture. My greed often gets in the way of my photography skills.
Maxine's was the perfect place for lunch. Cool, breezy, comfortable and a great place to just sit, drink as much iced tea as our parched bodies could hold (and this was quite a bit of tea), and watch the never-ending parade of fascinating people stroll by.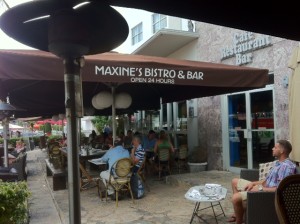 Unfortunately, by this time we were sunburned, exhausted and the day was winding down so we didn't get to see the rest of South Beach. I would have liked to see the Art Deco hotels for which the area is justly famous but when it comes to planning for one day in South Beach, shopping, beaching and lunch at a sidewalk cafe met all our expectations.
Next time, I'll see those hotels. Maybe even stay at one.
After all.
I never made it to the Kardarshian store either.