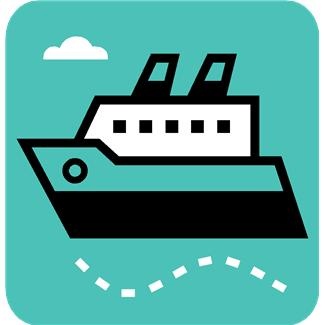 I'm going to be honest and tell you that I did not have high expectations for my stateroom on the Carnival Liberty. Heading to the Eastern Caribbean with a group of girlfriends, we intended to spend our money on fun pursuits, so we selected the most inexpensive staterooms possible. We would be shopping, swimming, snorkeling, beaching – what difference did it make where we slept? Still, I always like a comfortable stateroom as I do spend some time there reading, working on the computer, and just relaxing so I was just a teensy bit concerned about what I was getting into.
I just went on an Alaska cruise recently with another cruise line where we also chose an inside cabin with the mistaken idea that we would be able to upgrade once we boarded. Uh. NO. Do not expect to upgrade as you were able to do in the past. Cruising has become very, very popular and the last two cruises I have taken were almost completely sold out. Choose a stateroom you are going to be happy with because you are probably going to be staying there. An upgrade is a possibility, but not a likelihood. That inside cabin was very, very small and very, very dark. We managed but it was not a great experience.
So, when I stepped into our inside stateroom on the Carnival Liberty, I braced myself for a tiny, dark room. And I could not have been more wrong. It was brightly lit, open and huge. Seriously. I have never seen such a large inside stateroom. Now, let me back up and tell you that this was not strictly an inside stateroom, even though it was in that category, because it had two small portholes. I noticed when booking our stateroom that there were several in that category that had portholes and, from what I gather, it's because customers did not want to pay for an ocean view stateroom and then end up with two small portholes. But those two small portholes gave our inside category a view of the outside and this made all the difference. We LOVED our portholes. It was so great just to see outside! If you can possibly get these porthole inside cabins, book them. They are completely fabulous.
Here's the stateroom as you walk in.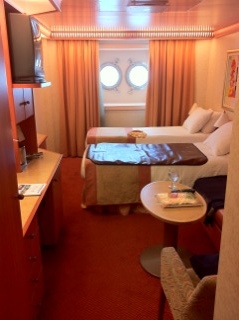 And our fabulous portholes!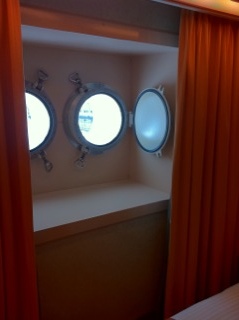 Lovely, comfy couch.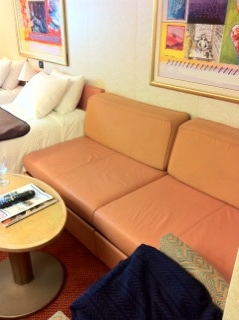 After taking a lot of cruises, I would actually consider this stateroom as more of a mini-suite. It had a hallway with three closets, a very nice bathroom, large desk/vanity area, a couch, a comfortable chair, a coffee table, and two twin beds which can be made up into one large bed. I really could not believe that we had a whole sitting area in there.
We unpacked and there was plenty of room for all our suitcases to slide right under the bed, all our clothes to fit in the closets and all our toiletries to fit in the bathroom. And two women needed a lot of room for all our stuff! We actually had drawers we didn't even use. Another nice thing was that the bathroom was really well designed for two people, with plenty of room to store everything. Carnival also had a very nice basket of supplies for us with things you don't normally see like toothpaste and a razor.
Plenty of storage space in the bathroom!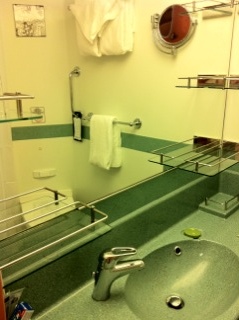 For your next cruise, choose Carnival – and get one of these lower-level porthole cabins.
Then use your extra money to shop until you just might have to buy an extra suitcase.
Not that his happened to me.
I'm just saying.
Full disclosure: Carnival provided me with some lovely gifts and some free Internet time, but did not pay for my cruise. As always, I will share my honest opinion about any travel experiences I have.