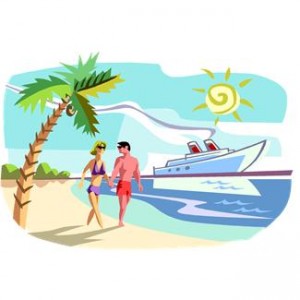 Sun. Sand. Shopping. These are the three most fabulous words in the English language.
Oh, wait. I forgot icy frozen drink with an exotic name. More than three words but equally fabulous. Especially when consumed on the deck of a cruise ship heading to warm and exotic, palm tree covered islands.
In about a week I will fly to lovely Miami for two days, then board the Carnival Liberty for a cruise to the Eastern Caribbean. The best thing about this cruise – although it is difficult to find a best thing when you are talking about a Caribbean cruise because, obviously, it's a Caribbean cruise – is that I am going with a bunch of girlfriends. My husband is by far my favorite travel companion but he is not a fan of the beaching or the shopping.
These happen to be two of my favorite things in the universe and I will get to experience them every single day. Well. You may have to substitute "pool" for "beach" when we are at sea but that's OK. I love lounging by the pool also. And no sand in your icy tropical drink or bathing suit.
It's totally a win-win situation.
Read more at The Travel Blog Exchange HERE.